20 Something Moms
Stupid Lupus! grrrrr! **Update, wound up in hospital**
I got really lucky with my first two pregnancies - my lupus went in to remission only had minor complications. Well, they seem minor compared to what's going on now. I was really sick with number 2 and went into premature labor at 28 weeks w/ number one and did 8 weeks of bedrest. Kept her in there til 38 weeks :)

But this time around I am beyond miserable. Every bone in my body hurts. My skin has become hyper sensitive - SO squeezed my leg last night and it felt like he tried to rip it off. Horrific migraines and fainting spells almost daily. I haven't been able to work for going on 3 weeks now... and I barely function. Sucks! The rheumatologist out here can't get me in until july 10th. I was prescribed something for the migraines by my ob but it barely takes the edge off :( I am praying for relief soon but it seems I am in the midst of an extreme flare up and who knows when it will end.

Ugh!
I thought I would update you ladies on what is going on. It has been a really rough few weeks :( PIOG
****5/23*****
I ended up admitted to the hospital. Had a nasty migraine, so my SO decided to sleep on the couch (he has to sleep w/ the tv on) I went out there to get some water, walked back in and fainted (shocking, not) but this time I went face first and hit my head pretty good. My SO said I was out for about a minute (normally I will faint and come to almost immediately) and then extremely disoriented, so he called 911.
Spent the night in the ER, learned I have a cracked rib and small hairline fracture in my hip (most likely from all the falling on it) during the night I went hypotensive, they couldn't get my blood pressure (top number) over 80, they then decided with me being pregnant, to transfer me to a bigger hospital downtown. I have since been admitted and have been undergoing a bunch of tests trying to figure out what is going on

The one ray of sunshine is that the baby is still perfectly healthy, I was concerned after landing right on my stomach.

Not sure how long I will be in here, but the doctor says I am not safe at home, I am lucky I haven't hurt myself worse. So, maybe one of these tests will give us some answers! As of right now, my blood pressure is hanging around low 90's over low 50's
my doctor also mentioned my heart murmur was louder and more distinct, I am on cardiac monitoring. So, could really use some prayers or good juju that they figure something out.

***5/24***

Right now its basically a waiting game. They have run several new blood tests, did an echo a little while ago and the neuro team is coming in to talk to me and I'm sure order tests.
They are still monitoring my heart ... I haven't really gotten any answers other than I'm not going home til they figure out what's going on.

Well, still no answers about what's going on. Which is frustrating the doctors as much as me now.
They said I could count on being here through the weekend, there is a chance if things don't improve that I will be moved to an assisted care facility.

Trying really hard to stay positive but this has been difficult on so many levels. And I just want to be home with my family.
***5/26***
All I know right now is that my Lupus is in fact in a bad flare up, my titer levels are increasing, showing higher ANA levels in my blood. I also have a sinus infection as well as a kidney infection now. NO FUN. So far, MRI and CT scan look good. The Echo came back "mostly normal" they are keeping an eye on my murmur. Blood pressure is still low but I was NOT hypotensive overnight for once, so that is exciting. The doctors worry about sending me home without any answers, mostly concerned that I have already hurt myself fainting, so not safe to go home until I stop fainting. So, who knows how much longer. I am going to be having a spinal tap done to see if there is a root cause for my constant migraine as well.
Sick to death of hospital food I must say, and missing my kids so much. Breaks my heart to see the cry when they have to leave, they don't understand why mommy has to sleep here :( I am praying hard that I get to go home to my family very soon.
So, I finally got some news, and a plan. They have moved me from Telemetry up to the Rehabilitation Floor. They are going to get a treatment plan in place to get this Flare under control and get my body functioning again. They are ordering PT and OT to work on getting me stronger, I have been really weak since I got here. They are hoping that getting the Lupus under control will get me to stop fainting so I can go home. They told me to count on being in for a couple weeks, if by then there is not improvement they will be moving me to an inpatient rehabilitation center. They won't let me go home until they feel I am safe enough.
We will see what happens. I am praying that they can get me all fixed asap. All I want is to get home to John and my girls. I miss them like crazy. But, they are 100% being taken care of.
I don't know what I am going to do about work, obviously my disability leave is going to have to be extended, the financial repercussion of that is stressing me out, but it is what it is and I have to get healthy.
At least we have some answers and finally a plan in place to turn me back into a functioning human being again!!!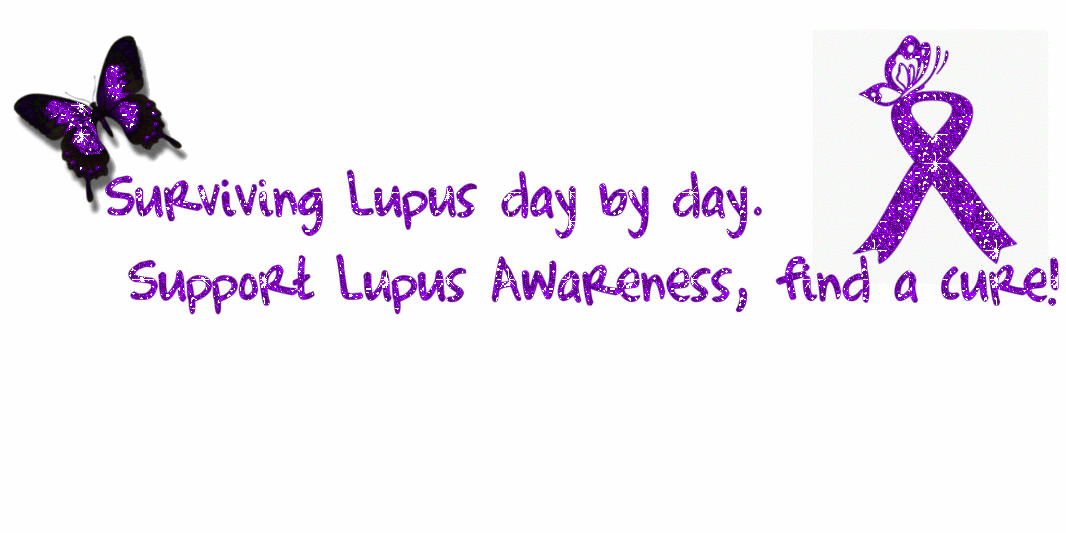 by
Add your quick reply below:
You must be a member to reply to this post.
Replies (1-10):
Add your quick reply below:
You must be a member to reply to this post.