What has held you back? Move Forward in 2009!


Have you ever considered working from home or starting your own home based business?

What held you back? I often here it was lack of support, unanswered questions, or not knowing where to start.


Become a Romance Consultant and you will get unlimited FREE training, support from me and the 50 other hard working women on my team! You are in business for yourself, but never by yourself.


Here are the other bennifits you will enjoy as a Romance Consultant:

~Enjoying A FUN Career you love, part time or full time
~ Getting Paid to Party, Earning 40% of party sales
~ Cash Bonuses
~ Downline bonuses
~ Enjoying all the tax write offs of owning your own business
~ Higher Income
~ Financial Freedom
~ Being your own boss
~ Creating your own hours
~ More time with your family
~ Self Confidence
~ Exciting Monthly Compititions
~ Exciting Conventions in FABULOUS LAS VEGAS
~ Working at your own pace
~ The ability to earn car or home credits
~ Meeting an endless amount of new friends
~ On-line Chat groups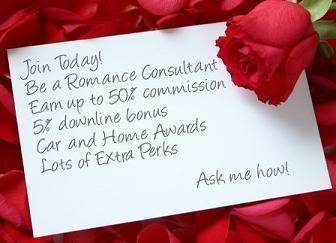 by
Add your quick reply below:
You must be a member to reply to this post.
Replies:
There are no replies to this post.