TTC - Trying to Conceive
ღ (My Story) Plus Docter's Confirmation. Please Take A look. Thank You! ღ
I have been having cramping and pressure in my stomach since I last ovulated. I decided to go ahead and test this morning even though I'm at CD 25 7DPO. I told myself that I was not going to test until Saturday. My goal was to test on the 24th, the day after AF was supposed to be due. I am proud to announce after three cycles of TTC, my husband and I are indeed with child. This will be our third and we are hoping for a beautiful baby girl. If we conceived a boy, we will still love and cherish him. I am still in shock and I still can't believe the results came out positive. I first started testing at 8:00 a.m. this morning with a test strip. When I saw a faint second line, I first thought I was seeing things but when I looked harder, I was like "OMG's. there's a second line". So I took another one and it came out positive once again. I then debated on whether on not should I take a digital test. After five minutes, I finally came to the decision and went ahead and tested with a very expensive digital. Much to my surprise, It came up pregnant within a few seconds. I still was in shock, so I took more and more..lol. I was shaking. I immediately told my husband that I was pregnant and explained how many test I took and he had said "I figured you was pregnant", like he knew before I did..lol. I have a docter's appointment next week where my pregnancy will be confirmed. I think implantation for me was on the 14th because I had a dip in my temperature that morning but never had any spotting. I never had spotting with my two successful pregnancies in the past. I also noticed that I was pregnant by my temperature staying high after ovulation and (TMI) having blue veins located on my breast. I only get those when I'm with child. A psychic also told me that I would conceive between September and December or before of this year. I guess she was right : ) She also said that I would conceive a baby girl : ) (I will be posting my story to share with other mother's in different groups).
Listed below are my symptoms (TMI):
1 DPO~ Temperature is 98.7, light cramping, spotted big blue veins in my breast.
2 DPO~ Temperature is 98.1, Fatigued, queasiness, light headache.
3 DPO~ Temperature is 98.0, cramping, frequent urination.
4 DPO~ Temperature is 97.9, itchy/aching breast, burning sensation in my stomach lasted 3 seconds, light cramping.
5 DPO~ Temperature is 98.6, light cramping, slight pressure and twinges in my stomach.
6 DPO~ Temperature is 98.4, cramping, pressure in my stomach and had a vivid dream (about having mutiple positive pregnancy tests)
7 DP~ Temperature is 98.3, cramping, pressure in my stomach, light dizziness. Implantation is today. Spotted pink discharge with my CM this afternoon (first time having an implantation bleed). Took close to ten pregnancy test to detect pregnancy at 8:00 a.m this morning. The test strips have a very faint line on them.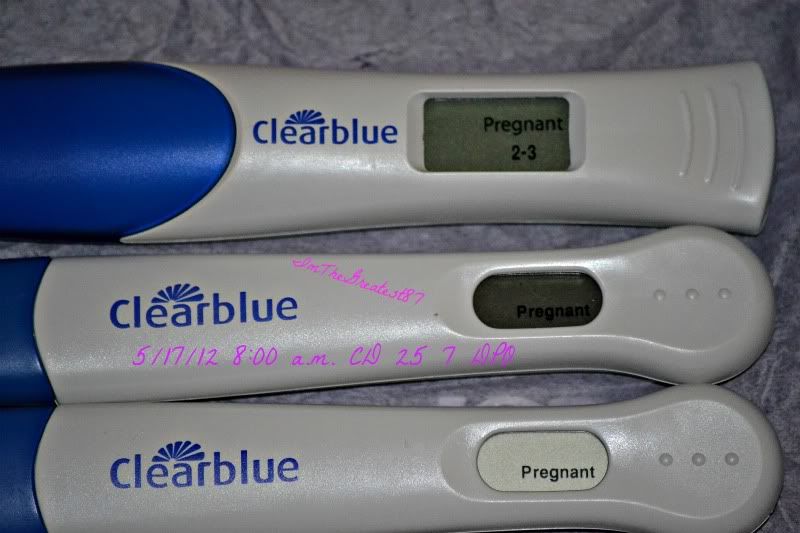 (Update) I had a doctor's appointment this morning ( May 25, 2012~11:10 a.m. ) and it went great. The nurse that I had was super nice and she was expecting as well. She said she was three mths. and that she has always been tiny. She didn't even look like she was three mths. at all. She wants a boy. I desire to have a girl. I said "Congratulations and I hope you get your boy" She said " Congratulations and I hope you get your girl" That was so sweet. I had bought my own digital pregnancy test to also confirm with the doctor's pregnancy test. As you can see, they are both positive. The digital that I have has a indicator on it which indicates how far along I am. It says 3+ which means I am 4 weeks. I also had blood drawn. I received bad news from the nurse. She indicated that I am dehydrated and told me to drink 8 to 9 cups of water. I pray that my little bean will be alright and that I will have a wonderful and healthy nine mths. : )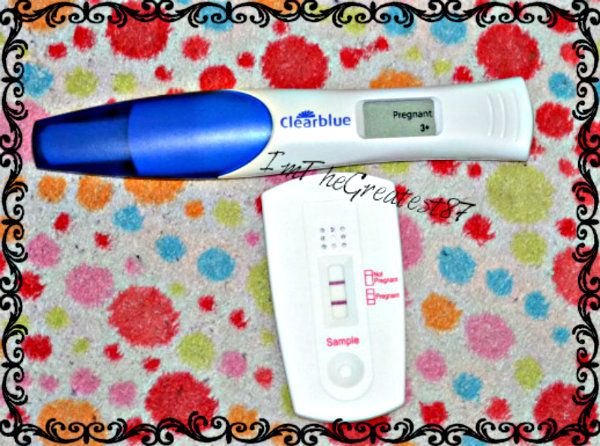 by
Add your quick reply below:
You must be a member to reply to this post.
Replies (1-10):
Add your quick reply below:
You must be a member to reply to this post.