Breastfeeding Moms
Great article on newborn weight loss
http://www.drjen4kids.com/soap%20box/newbornweight.htm
I'm sure I saw that baby on a treadmill: weight loss in the first few days after birth. by Lakeshore Medical Breastfeeding Medicine Clinic
I've been calling bilirubin, birth weight and blood sugars my "3Bs" and have written about them as "random numbers flying through the air." This birth weight thing is a sticky issue for me because when my third son was born (yes, to my board-certified pediatrician, IBCLC self) and I was told he lost 10% of his birth weight, at midnight no less, I burst into tears. And for that time, my confidence was shot.
But a more rational me, with the sun out the following day, realized that I was a giant water balloon when my son was born, and that he looked a little puffy and that I'm pretty sure that you can't really lose 10% of your birth weight in a day or two unless you are pooping and puking your brains out or maybe, you're exercising, or exercising while pooping and puking. I've seen some things in nurseries that make me go "hmmmm" but I'm pretty sure I've never seen a gym. Maybe I'm not that observant. But I did a little, unscientific sampling of wise people on our Lakeshore Breastfeeding Medicine page on Facebook and I heard a few things repeatedly: you can get a bunch of IV fluids during delivery that may, if the placenta is still hooked up, transfer to the baby making both you and the baby water- logged, and that using the same scale to weight the baby makes intuitive sense. Of course, nobody bought into my treadmill theory.
I also read lots of opinions about "not having any milk yet." We need to tackle that because that line of thinking may lead to buy-in that this weight loss is clinically significant and that you can't provide for your baby. I want to make sure I'm clear here: I'm talking about the first days. If the baby is down 10% from birth weight at day 6, we have a problem. But the idea that the "milk isn't in yet" needs to be addressed. Your milk is in. Colostrum, while it may be a different recipe of subsequent milk that you make, is still precious, valuable and perfect. "He isn't getting anything" or "I can't satisfying him" are said way too commonly. Understand what newborns do is critical to believing that your body can feed that beautiful new baby you just introduced to the world.
So why is this a problem? Kids are getting supplemented. Sometimes without or against parental informed consent. Just one bottle can make a huge difference in how that baby's immune system develops. We should have a very good reason for supplementing. But do we? Check with out from the CDC: according to this graph, about 20% of kids in the US are being supplemented with formula before 2 days. That makes no sense. And it's heartbreaking, confidence-rotting and is probably due to the 3Bs and random numbers flying through the air.
Percent of U.S. breastfed children who are supplemented with infant formula, by birth year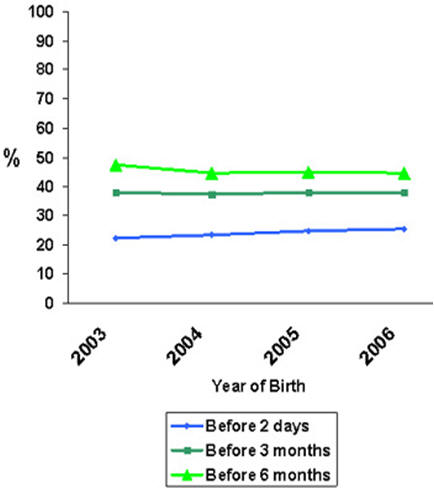 So why would we supplement? According to the Academy of Breastfeeding Medicine's Protocol number 3 on supplementation we would supplement for:
Maternal illness resulting in separation of infant and mother

Infant with inborn error of metabolism (galactosemia)

Infant who is unable to feed at the breast (congenital malformation, illness)

Breast pathology or prior breast surgery resulting in poor milk production


Intolerable pain during feeding unrelieved by interventions

Significant dehydration: clinical and laboratory evidence that is not improved with skilled assessment and proper management of breastfeeding

Delayed bowel movements or meconium stools on day 5

Insufficient intake despite and adequate milk supply (poor milk transfer)

And Hyperbilirubinemia, which might be associated with starvation, as in "lack-of- breastmilk" jaundice.
And we would choose to supplement first with expressed human milk, donor milk and if necessary infant formula.
We wouldn't supplement for:
Sleepy infant with fewer than 8-12 feedings in the first 24-48 hrs with less than 7% weight loss and no sign of illness
Bilirubin levels less than 18 after 72 hours of age when the baby is feeding well and stooling and the weight loss is less than 7%.
The infant who is fussy at night or constantly feeding for several hours
The tired or sleeping mother
Where does the 7% come from? When I have asked, it's "just standard." But it's a number. What else should we check? Well, I like poop. Colostrum is a great laxative, the more poop, the more milk we know is being transferred. Maybe we could look at the rate of the decline of the weight loss. Did the baby lose 7% night one, and 1.5% night two and 1% night three? That might be an indicator that the baby lost its water-balloon status and is improving. Maybe we could have someone who knows what they are doing help the mother (education, education, education...) Maybe we could empower the mother how to interpret that weight loss that may happen after an induction, epidural and then C-section and getting 9 gallons of fluid (ok, slight exaggeration). Empowering the mother and her support system with knowledge about what is normal and expected is crucial.
Numbers need to be interpreted in the context of the mom, baby, birth and the breastfeeding situation or they are worthless.
Jenny Thomas, MD, IBCLC, FABM, FAAP
by
Add your quick reply below:
You must be a member to reply to this post.
Replies (1-10):
Add your quick reply below:
You must be a member to reply to this post.