Pop Culture Junkies
Did this pregnant actress put her baby's life at risk by having a little vacation fun?
There are so many no-nos during pregnancy, but every mom-to-be has to decide what she's comfortable doing.
I saw today that pregnant actress Elsa Pataky went down an inflatable waterslide off a yacht while vacationing in St. Barts. She recently announced the pregnancy and is due this spring.

Do you think she was putting her baby at risk? Or was this no more dangerous than lots of other things expecting moms do every day? (After all, baby is pretty well-cushioned in there!) Did you do anything like this while pregnant?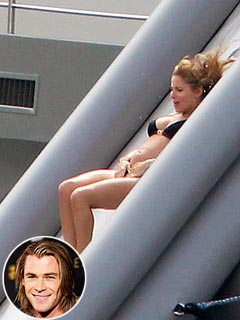 (image from the story at People.com)

by
Replies (31-40):
Add your quick reply below:
You must be a member to reply to this post.