Pop Culture Junkies
Reese Witherspoon Opens Up About Pregnancy: "I'm Feeling Very Round"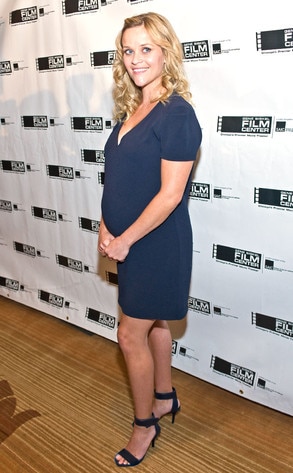 Timothy Hiatt/Getty Images
Reese Witherspoon may have pregnancy chic down pat, but that doesn't mean the mama-to-be is always feeling fab.
Although the This Means War star—who is pregnant with her third child (her first with hubby Jim Toth)—has stayed rather mum on their baby-on-the way, she couldn't help but share how she felt on Saturday night for an Evening With Reese Witherspoon, hosted by the Gene Siskel Film Center at The Ritz-Carlton in Chicago.
"Thanks, but frankly I'm feeling very round tonight," Witherspoon told The Chicago Sun-Times when a reporter commented on how great she looked.
Although the blonde beauty is preggers for the third time (she has two kids, Ava, 12, and Deacon, 8, from her previous marriage to Ryan Phillippe), the adorable star stills fights those pesky cravings and admits to indulging in Chicago's famous treats:
"Maybe, but it's not that easy," Witherspoon admitted when the reporter suggested she was likely avoiding things like the windy city's deep dish pizza. "I'm always feeling like I'd like to eat everything in sight!"
Despite opening up about her pregnancy for the first time, the 36-year-thesp is still keeping quiet on the sex of her babe, but she did say she is "very excited" about the upcoming birth.
As for what's next? Reese is currently filming her new flick, Devil's Knot, with Colin Firth in Atlanta.
And after that?
"After I finish that, I'm going to take a little time off—and go have a baby," Witherspoon shared with a smile.
by
Replies (11-12):
Add your quick reply below:
You must be a member to reply to this post.