Pop Culture Junkies
Jennie Garth Wants to Date a Man with 'Positive Energy'
Jennie Garth Wants to Date a Man with 'Positive Energy'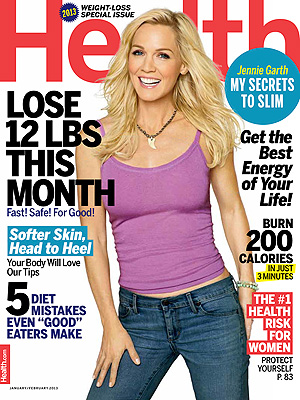 Courtesy Health Magazine
When it comes to her current love life,
Jennie Garth
has a new mantra.
"I'm learning
to date again
," the actress, who
split from husband Peter Facinelli in March 2012
, tells
Health in its January issue
, "[and] looks aren't important to me anymore. ... I like positive energy."
The actress, who
dropped 30 lbs. last year
, plans to keep her health a priority in 2013.
"Every day, I just renew my healthy choices," she says. "I feel really good about myself now, and I don't want to do anything to change that."
That means avoiding trendy diets or weight-loss gimmicks.
"My biggest regret is putting
my body
through fad diets: Atkins, cleanses, the hCG diet," Garth, 40, says. "I lost like 18 lbs., but it came right back. The worst was fasting with colonics for three or four days. It was the most horrifying experience ever."
In addition to her body, Garth says she's trying to maintain a positive outlook, even when times are tough.
"When I'm in excruciating pain, like with what I've been through with my breakup and that grief and loss that's just immobilizing, it helps to remember that it only lasts for 13 to 15 minutes, max," she tells
Health
. "And then it's over."
"Your mind is ready to go to something else," Garth continues. "You might come back to it, but it helps to just know that that pain is not going to last forever."
by
Add your quick reply below:
You must be a member to reply to this post.
Replies (1-5):
Add your quick reply below:
You must be a member to reply to this post.