The Cafe
Elizabeth Edwards is in HELL.....
...for a life spent "in defiance and disobedience to God."
Says the Westboro Baptist Church!
Can someone please detail for me what exactly she has done to deserve having her funeral picketed?
http://abclocal.go.com/wtvd/story?section=news%2Flocal&id=7833496
Westboro to protest at Elizabeth Edwards funeral
Updated at 05:13 PM today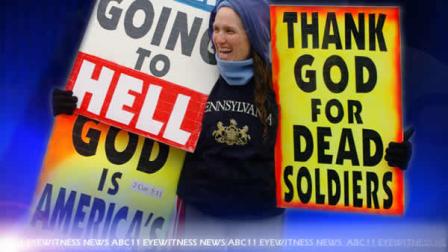 RALEIGH (WTVD) -- A Kansas religious group known nationally for its loud anti-homosexual protests at the funerals of fallen U.S. soldiers says it plans to be in Raleigh Saturday to protest at the funeral of Elizabeth Edwards.
According to the "Picket Schedule" on the Westboro Baptist Church website, church members will protest at a "respectful distance" from the Edenton Street United Methodist Church.
Edwards' funeral is set for 1 p.m. Saturday. The wife of former presidential candidate John Edwards died Tuesday following a six-year battle with breast cancer.
The post on the Westboro website says Elizabeth is in Hell for a life spent "in defiance and disobedience to God."
Pastor Fred Phelps and his family lead Wesboro. They've made headlines for years by showing up at soldier's funerals with large signs proclaiming things like "God hates fags" and other anti-gay messages.
Organizations like the Anti-Defamation league and the Southern Poverty Law Center have labeled Westboro as a hate group.
The protest announcement drew swift condemnation from many in the Raleigh area.
One viewer who emailed, ABC11 called on Triangle television stations not to cover the protest saying it would only give the group a platform to promote its hate agenda.
"I understand that as a news organization, you have a responsibility to report that they are there and protesting, but you don't have to provide them a public platform to degrade Mrs. Edwards memorial," wrote Suzanne Witzen.
Another viewer called for a "Line of Love" around the church to protect the Edwards family from the protestors.
"It's just downright rude to bring a protest of this sort to disrupt the mourning process," wrote Susan Burcham.
In an interview Thursday morning with NewsRadio 680 WPTF, Westboro Baptist Church member Shirley Phelps Roper said the protest was justified and that Edwards taught against the commandments of God.
"She used her money and her standing in this country to defy her creator," said Roper.
Meanwhile, Edwards' daughter, Cate, will be one of the three people delivering eulogies at Edwards' funeral. Hargrave McElroy and Glenn Bergenfield will also speak.
McElroy was a close friend and a teacher at the high school Edwards' children attended and Bergenfield was one of Edwards' classmates in law school.
by
Add your quick reply below:
You must be a member to reply to this post.
Replies (1-10):
Add your quick reply below:
You must be a member to reply to this post.