The Cafe
Joe Paterno to retire after child abuse scandal (He was fired late last night)
CNN) -- Longtime Penn State head football coach Joe Paterno will retire at the end of the 2011 season, he said in a statement Wednesday.
Paterno said he was "absolutely devastated by the developments" regarding a child sex abuse scandal involving a former assistant football coach and two university officials.
"I grieve for the children and their families, and I pray for their comfort and relief," Paterno said.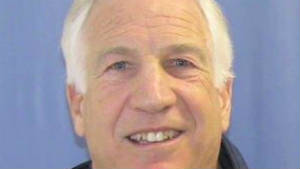 NFL player reflects on Penn State case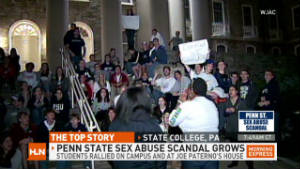 Supporters rally at Joe Paterno's home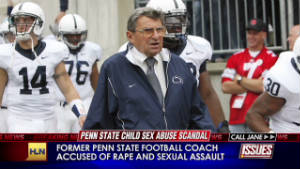 PSU criticized for not reporting abuse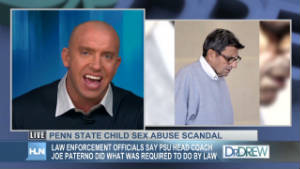 Did Joe Paterno do enough?
"I have come to work every day for the last 61 years with one clear goal in mind: To serve the best interests of this university and the young men who have been entrusted to my care," the legendary coach said. "I have the same goal today.
"That's why I have decided to announce my retirement effective at the end of this season. At this moment, the Board of Trustees should not spend a single minute discussing my status. They have far more important matters to address. I want to make this as easy for them as I possibly can.
"This is a tragedy," Paterno said of the case. "It is one of the great sorrows of my life. With the benefit of hindsight, I wish I had done more."
Paterno's contract was set to expire at the end of the season. Some had called for him to resign because of his response to allegations brought to him in 2002 by a graduate assistant, who said he had seen retired defensive coordinator Jerry Sandusky sexually assaulting a young boy in the shower at the campus football complex.
Paterno reported the allegations to his boss. Pennsylvania's attorney general said it appeared Paterno had met his obligations under state law, but some critics have said the coach should have reported the suspected abuse to police.
Sandusky, who was arrested on Saturday, is accused of sexual offenses, child endangerment and "corruption of a minor" involving eight boys, most or all of whom he met through the Second Mile, the charity he founded to help troubled youth, according to prosecutors.
Penn State players received a text message calling them to a squad meeting at 11 a.m., sophomore linebacker Dakota Royer told CNN.
At the meeting, Paterno "said he's going to be retiring after this season but we're all going to get through this," Royer said. "It's going to be rough, but we're going to do it."
The coach stressed to his players the importance of focusing on this weekend's game against Nebraska.
About 150 people were at the meeting, a mixture of players, coaches and school officials, Royer said. Many "had tears coming down their face," he said.
"Right now it's really tough for us all to handle," Royer said. "And it's really sad the way -- what it's come down to. Right now we just have to stick together and bond even more and just look forward to the weeks to come and stay as focused as possible."
Paterno himself was "teary-eyed" as he spoke to the players, said Quinn Barham, left tackle and team co-captain.
But the coach "said what he had to say ... telling us it was tough for him. And he wished things would be different."
"It'll make us even stronger as a team. We can't wait to get out on the field on Saturday," Barham said.
Tuesday night, Paterno told supporters gathered at his home he is praying for any potential victims.
"There have been some criticisms of the way we've handled some of the poor victims," the legendary coach told a cheering crowd Tuesday night, according to a video uploaded to the Internet sharing site YouTube by The Daily Collegian, Penn State's student newspaper.
"My wife and I, we have 17 grandkids, from (age) 16 to 3, and we pray for them every night," Paterno said. "And we're going to start praying for some of those kids that got involved with some of the problems we've talked about. They don't deserve it.
"We owe it to them to say a prayer for them and make sure that they know and understand that their life is still one that can be enriched, one that they can make a significant impact on other people and do a lot of different things, as all of you can."
Meanwhile, calls coming into a tip line from people claiming to be victims of Sandusky have been brisk, said a source close to the investigation, but police are still attempting to verify the claims.
Two other Penn State officials have also been arrested and accused of failing to report the abuse. On Sunday, the university said the officials had stepped down, one of them returning to retirement and the other taking administrative leave.
Attorney General Linda Kelly said Monday that the alleged failure of Penn State Athletic Director Timothy Curley, 57, and Gary Schultz, 62, the university's senior vice president for finance and business, to report abuse claims "likely allowed a child predator to continue to victimize children for many, many years."
Curley and Schultz, who are each charged with one count of perjury and one count of failure to report suspected abuse, were released Monday on $75,000 bail each. At the arraignment hearing, their attorneys said the men were innocent of the charges and would fight to clear their names.
The National Football Foundation, which had named Curley the winner of the 2011 John L. Toner award in June, said in a statement Wednesday the award will not be presented at the foundation's annual awards dinner, and "will be vacated in 2011."
The award is "designed to honor and acknowledge outstanding athletics directors who have demonstrated superior administrative abilities especially in the area of college football," according to the foundation's website.
On Tuesday, a Pennsylvania judge issued an order barring Sandusky from unsupervised visits with his grandchildren, ages 9, 7 and 5, and prohibiting the children from visiting Sandusky's home overnight.
Sandusky's son and former daughter-in-law share custody of the children, according to court documents. The children's mother sought the judge's order after learning the children visited Sandusky's home on Sunday, the documents said.
Penn State's board of trustees said Tuesday it will create a special committee on Friday to investigate the child rape allegations, which became public last week after a grand jury report on the case was released.
"The Board of Trustees of The Pennsylvania State University is outraged by the horrifying details contained in the grand jury report," the board said in a press statement. "This special committee will be commissioned to determine what failures occurred, who is responsible and what measures are necessary to insure that this never happens at our university again."
Read the grand jury report (PDF - includes graphic content)

Sandusky's involvement with Second Mile provided him with "access to hundreds of boys, many of whom were vulnerable due to their social situations," the grand jury said. The former coach is said to have engaged in fondling, oral sex and anal sex with young boys over at least 15 years, according to the investigative grand jury's summary of testimony.
A source with direct knowledge of the investigation confirmed to CNN that a man walked into a Montoursville, Pennsylvania, state police station and claimed he was victimized by Sandusky. Interviews with the man will determine whether he's a ninth victim, the source said.
Sandusky, who served 23 years as defensive coordinator for the Nittany Lions football team before retiring in 1999, is free on $100,000 bail.
A preliminary hearing for Sandusky, originally set for Wednesday, has been rescheduled for December 7, officials said Tuesday afternoon. Sandusky's attorney has said more time was needed to bring in witnesses.
Paterno faces pressure to quit

The grand jury investigation that led to the charges began with the claims of one alleged victim who said Sandusky had "indecently assaulted" him and engaged in sex acts while he was a guest at the coach's home, according to the attorney general.
The victim met Sandusky through the Second Mile, and Sandusky allegedly gave him expensive gifts such as trips to professional and college games, golf clubs, a computer and money, Kelly said.
The alleged period of abuse, which began in 2005 and lasted into 2008, included overnight stays at Sandusky's home, where touching led to sexual acts, according to Kelly and grand jury testimony.
However, the most explosive charges in the grand jury report involve a 2002 incident in which a graduate student reported seeing Sandusky in the shower performing anal sex on a young boy, according to the grand jury and prosecutors.
"One of the most compelling and disturbing pieces of testimony in this investigation came from an eyewitness to a late-night sexual assault that allegedly occurred in March of 2002, in the locker room of the Lasch Football Building on the University Park Campus," Kelly said. "Hearing what sounded like sexual activity in the showers of a building that was supposed to be empty, a graduate assistant reportedly observed Sandusky sexually assaulting a naked boy who appeared to be about 10 years old."
The assistant reported the incident to Paterno, who, in turn, alerted Curley.
Paterno said in an earlier statement that he had done his duty in informing Curley.
"It was obvious that the witness was distraught over what he saw, but he at no time related to me the very specific actions contained in the grand jury report. Regardless, it was clear that the witness saw something inappropriate involving Mr. Sandusky. As Coach Sandusky was retired from our coaching staff at that time, I referred the matter to university administrators," Paterno said.
But instead of reporting the incident to authorities, Curley and Schultz took Sandusky's locker room keys and banned him from having children from Second Mile visit the football building, Kelly said.
In a statement, Paterno called the charges "shocking."
"While I did what I was supposed to with the one charge brought to my attention, like anyone else involved, I can't help but be deeply saddened these matters are alleged to have occurred," he said in the statement.
Paterno told supporters outside his home Tuesday, "It's hard for me to tell you how much this means to me ... You know, with the kids that were victims, whatever they want to say, I think we ought to say a prayer for them ... tough life when people do certain things to you."
"Remember, we're always going to be Penn State, regardless of what happens with certain people," he said in the YouTube video. "We're Penn State. I'm proud of you folks."
Prosecutors have not ruled out the possibility of additional charges or victims in the case.
On Wednesday, Paterno's son, Scott Paterno, referred media requests about the Sandusky matter to a spokesman on Twitter, adding, "Anyone who is following me for info should please feel free to stop doing so. No more information regarding these matters will be here.
"Finally, thanks everyone for thoughts and prayers," Scott Paterno said, "but please, pray for the victims."
by
Add your quick reply below:
You must be a member to reply to this post.
Replies (1-10):
Add your quick reply below:
You must be a member to reply to this post.