Jacqueline MacInnes Wood back to B&B -- on contract!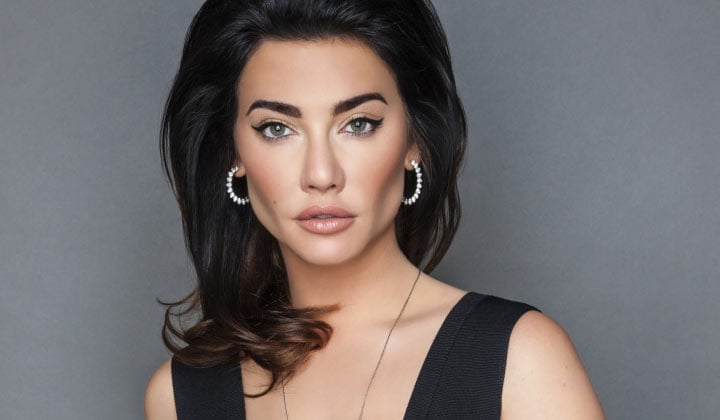 Someone better warn Ivy, because Jacqueline MacInnes Wood's Steffy is heading back to the canvas, and "it's going to be bloody."
The Bold and the Beautiful's Steffy Forrester may not have used the famous Arnold Schwarzenegger line, "I'll be back," when she left town in March, but she may as well have. Especially given the fact that she indeed will be returning to the canvas, and this time, it's going to be long term.
TV Insider
writes that contrary to recently published reports, portrayer Jacqueline MacInnes Wood
is
heading back to B&B, and her return comes with an exciting twist: she's on contract.
"L.A. and the fashion industry are her life," the actress explains of why Steffy decides to come back home for the long haul. "She has to come back and, this time, really deal with everything. And everybody. Even Ivy [Ashleigh Brewer]."
As viewers may recall, the sexpot character dropped into town at the beginning of the year to try and steal Liam (Scott Clifton) from her cousin. Unfortunately for the alluring brunette, she failed. But when she returns on Tuesday, May 26, it may be a whole different story.
"I want Steffy to get out of her selfie stick and hit that woman!" Wood exclaims. "My character is the socialite who grew up with getting whatever she wanted... money, fame, everything. She's like some of those famous girls -- you know who I mean but we don't need to name them -- who somehow always end up in the tabloids every day."
And with that silver spoon comes major attitude, whether directed toward Ivy or, as Wood explains, herself. "I want to slap some sense into her whenever I see her heading in the wrong direction, which happens so often," she says with a laugh, adding that Steffy still has a lot of growing up to do. "She's a mess, but a very strong mess. Steffy will always have her feelings for Liam, but now she's coming back to fight on a much bigger scale. And it's going to be bloody."
For more regarding Wood's return, including the possibility of Steffy and Rick [Jacob Young] reconnecting romantically, check out
TV Insider
's full article
here
.
by
Add your quick reply below:
You must be a member to reply to this post.
Replies (1-1):
Add your quick reply below:
You must be a member to reply to this post.