The CafeMom Newcomers Club
I am a bad mom!!!! (homework)
So my son is in preschool and has never had homework, until this weekend. He always brings home papers and projects he has done. But this time was different. There was a snow flake in his backpack, a white snow flake, that is it. I though it was odd. But oh well, maybe they were practicing cutting. So just before I put him to bed, he goes to his closet, gets the jeans out he wore on Friday and pulls out a green paper. Ok, odd again, but NBD right? WRONG WRONG WRONG WRONG! He tells me he has to color! I am like, ok nice one, he doesn't want to go to bed. Again WRONG. This green paper says to decorate the snow flake with things from around the house and send it to school on Tuesday! So we rush around and find a Santa sticker book and use it to decorate the snow flake. I feel like crap, knowing we could have done an awesome job and had alot of fun with it. But instead, I am helping put random stickers on it right when he should be in bed. Oi! from now on, I am checking pockets BEFORE they go in to the hamper, and not before wash day!
I am Magen, a 21 year old, former teen mommy with two children(Amon and Ryan),married to(Dustin) my jr high sweat heart, the father of both my children,high school graduate,uncovered exclusively & extended public breastfeeding, (because my children deserve better than crap in a can ), baby wearing, co-sleeping, CIO is cruel, extended rear facing,extended harnessing, vaccinating, circumcising, thumb sucking encouraging, disposable diaper using, lets my kids trash the house, then picks it up for them, going to public school, doesn't force church but believes in God, goes to bed angry, does not fold laundry, loves to organize, listen to heavy metal and country, reads constantly, plays world of war craft with my husband, pro-life, child abuse survivor(NOT victim), republican, home owning, living my American dream, stay at home mommy!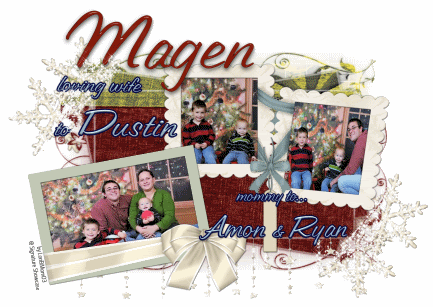 by
Add your quick reply below:
You must be a member to reply to this post.
Replies (1-3):
Add your quick reply below:
You must be a member to reply to this post.