The CafeMom Newcomers Club
Today is my damn birthday and my Df is doing everything in his power to make me feel like shit. I cant have just 1 day for myself. i wanted to make plans for us to go stay in a hotel together and get a night away from work. He told me no that he already had it handled. Nope, not a damn thing. Hasnt even told me happy birthday. So then i wanted to go get myself a birthday cake, and he said no, hes on a diet so im not bringing it into this house because he cant have it. So no cake for me. So i asked him since he didnt get me shit can i at least go get my tattoo redone, Nope. My brother got me $200.00 worth of flowers ordered them from Afghanistan, and my own fiance does not get me a damn thing. Valentines day I got him a wedding band, and the wide band letter watch he had been wanting, i got a pack of tongue rings, and i already have over 100 so i dont know what he was thinking, but i didnt say a damn thing about it i just told him thank you! I just wanted 1 happy day as this is not a happy time for me. My grandmas birthday was March 1st and she passed away on March 2nd and this year is 5 years. I dont know what his problem is today, i just wish he would leave for awhile and let me be.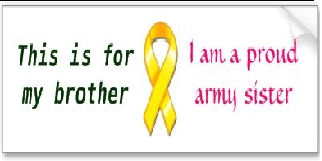 My brother and Mason
Italy Bound Until 08/2011
by
Add your quick reply below:
You must be a member to reply to this post.
Replies:
There are no replies to this post.