The CafeMom Newcomers Club
EXCLUSIVE: Football Star Troy Polamalu's Hair Now Insured for $1 Million This is some HAIR!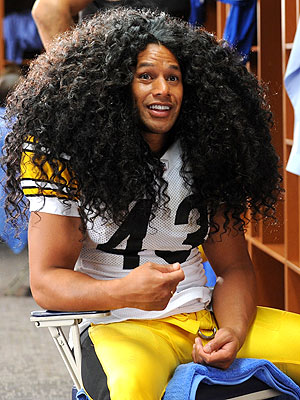 Heads up NFL. Opposing teams had better mind the hair pulling–Head & Shoulders has taken out a $1 million Lloyds of London policy protecting their spokesperson, Pittsburgh Steelers' Troy Polamalu's famous ringlets. "It's like J.Lo's insured butt!" he jokes, comparing the famous urban legend surrounding the singer's derriere to learning about his own very real insurance policy. The beauty brand has reason to keep Troy's 35″ tresses under lock and key: Women and men across America are desperate for the secret to those Samoan curls, with some of his manliest teammates even trying to score the secret. "One guy in particular… is stealing all of my Head & Shoulder products," he laughs. Taking 45 minutes pregame to care for his hair has become a ritual for the all-pro safety, who explains, "It's correlated to what a warrior in the past would do to prepare for war. You have the Mongolians, the Japanese Samurai, the Spartans–all of these warriors with long hair…and in that way you can almost get into the mind-way, preparing for some type of battle when you are doing your hair." After eight years without so much as a trim, would Troy ever consider cutting his signature locks? "With this big hair insurance–I don't think so!" he says. –Katherine Kluznik Rentmeester
by
Add your quick reply below:
You must be a member to reply to this post.
Replies (1-10):
Add your quick reply below:
You must be a member to reply to this post.