The CafeMom Newcomers Club
The Most Controversial U.S. Court Trials
Officers Acquitted in Rodney King Trial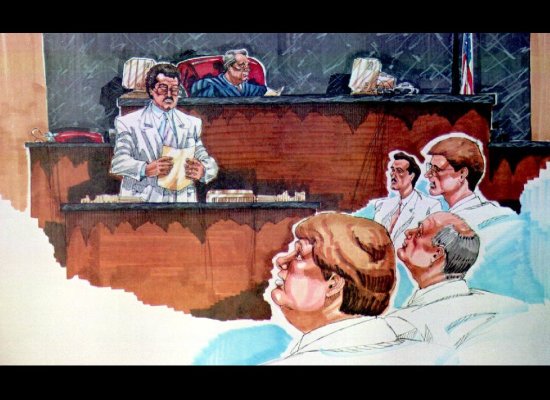 In a courtroom sketch, court clerk Jim Holmes reads the verdict 17 April 1992, in the closing minutes of the Rodney King civil rights case as the defendants (R) look on, in Los Angeles, California. Judge Davis sits on bench in background.
Involuntary Manslaughter in the Oscar Grant BART Shooting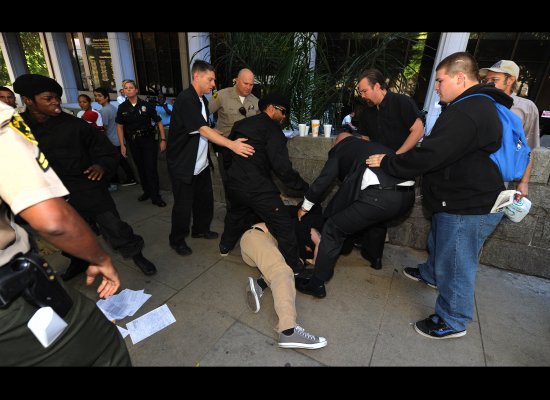 Sheriff's deputies scuffle with members of the Black Riders Liberation Front, supporters of slain transit passenger Oscar Grant, outside the Los Angeles Superior Court before the sentencing of the former Bay Area Rapid Transit officer Johannes Mehserle, who was responsible for the Oakland shooting last year, in Los Angeles on November 5, 2010.
Barry Bonds Convicted Of One Count Of Obstruction Of Justice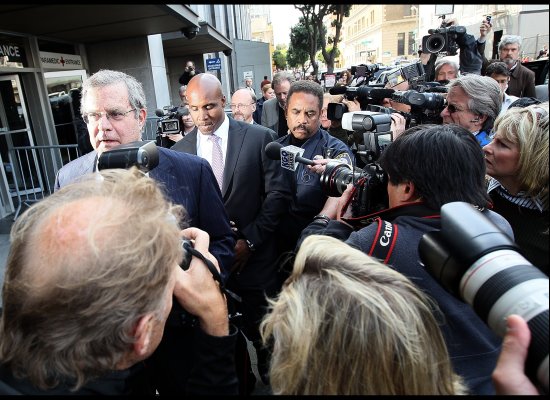 SAN FRANCISCO, CA - APRIL 13: Former Major League Baseball player Barry Bonds (C) walks through a crowd of media with his attorney Allen Ruby (R) as they leave federal court on April 13, 2011 in San Francisco, California. After three and a half days of deliberation, a jury found Barry Bonds guilty on one count of obstruction of justice and was a hung jury on three counts of perjury for lying to a grand jury about his use of performance enhancing drugs.
Howard K. Stern in Anna Nicole Smith Case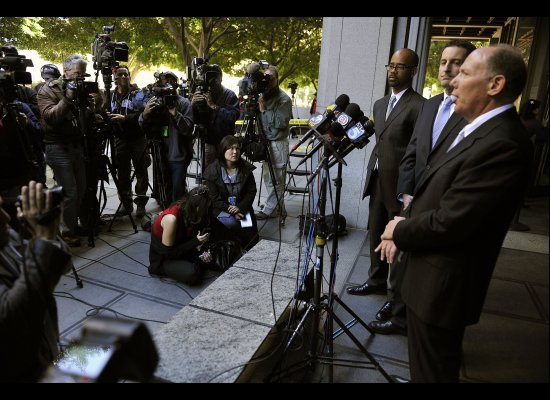 LOS ANGELES, CA - JANUARY 06: Anna Nicole Smith's former compainion and manager Howard K. Stern (C) leaves court after being aquitted of all charges on January 6, 2011 in Los Angeles, California. Stern had been charged with obtaining controlled substances by fraud and using false names stemming from the death of Anna Nicole Smith.
Michael Jackson Child Molestation Claims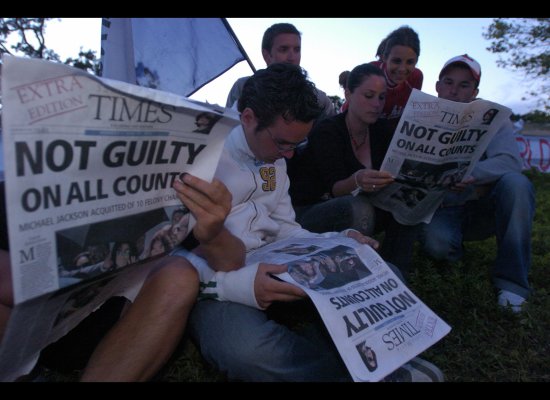 SANTA MARIA, UNITED STATES: From left, Frederic Maze, 29, Manu, 29, 'OB1', 25, (with flag), Marika Luvmj, 27, Lauren armengau, 17, and Kader Fortune, 26, all friends from Paris, France read the extra edition of the Santa Maria Times at dusk outside of Michael Jackson's Neverland Ranch in Santa Ynez after Pop Star Michael Jackson's child molestation trial concluded, 13 June, 2005 with a not guilty verdict on all counts.
Amanda Knox Appeal Hearing In Perugia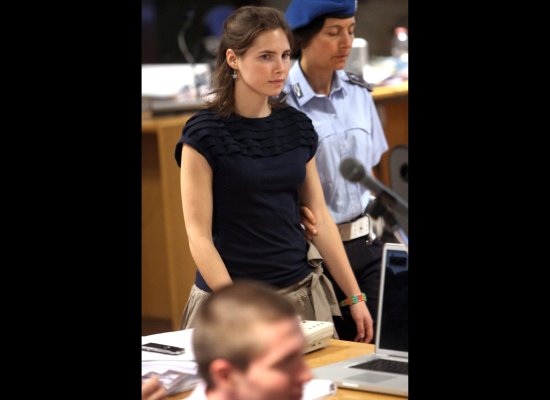 PERUGIA, ITALY - JUNE 27: Amanda Knox returns after a break in Perugia's court of Appeal during the appeal hearing against her murder conviction on June 27, 2011 in Perugia, Italy. American Amanda Knox and her Italian ex-boyfriend Raffaele Sollecito were convicted of the murder of Ms Knox's former British flatmate Meredith Kercher in 2007. Their trial took place in December 2009 with Knox and Sollecito receiving sentences of 26 and 25 years respectively. Rudy Guede, an unemployed man from Ivory Coast, was also convicted of the Meredith Kercher's murder.
Scott Peterson Transported To San Quentin Prison Death Row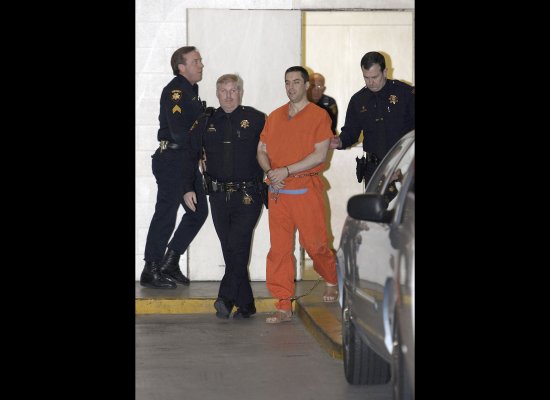 REDWOOD CITY, CA - MARCH 17: Convicted murderer Scott Peterson is escorted by two San Mateo County Sheriff deputies as he is walked from the jail to an awaiting van March 17, 2005 in Redwood City, California. Scott Peterson was transported to San Quentin Prison death row after he was formally sentenced to death for the murder or his wife Laci and their unborn son
O.J Simpson Acquitted in Deaths of Nicole Brown Simpson and Ron Goldman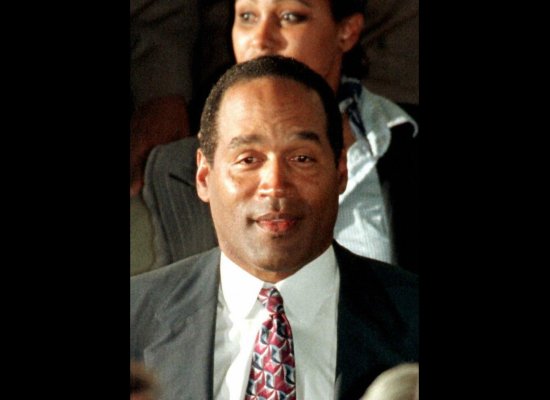 SANTA MONICA, UNITED STATES: Defendant O.J Simpson leaves the Santa Monica, California, courthouse where he was found liable 04 February for the deaths of his ex-wife Nicole Brown Simpson and her friend Ronald Goldman.
John Hinckley Attempted Assassination of President Ronald Reagan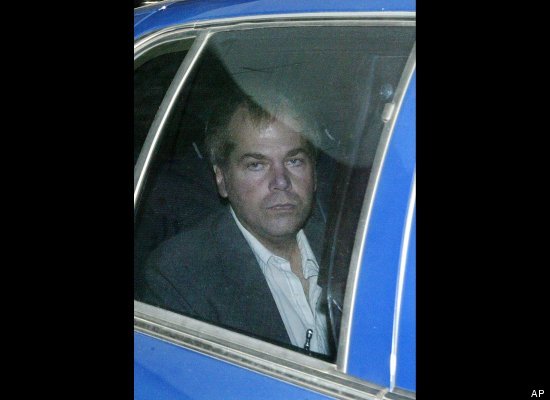 FILE - In a Nov. 18, 2003 file photo, John Hinckley Jr. arrives at U.S. District Court in Washington. Hinckley is being granted additional time away from the Washington psychiatric hospital where he lives. U.S. District Judge Paul Friedman on Wednesday, May 11, 2011 approved an unspecified number of extra visits by John Hinckley to his mother's home in Virginia. Hinckley lives at St. Elizabeth's Hospital in Washington. He was found not guilty by reason of insanity after he tried to assassinate President Ronald Reagan in 1981 as he left a Washington hotel.
Chandra Levy Murder Trial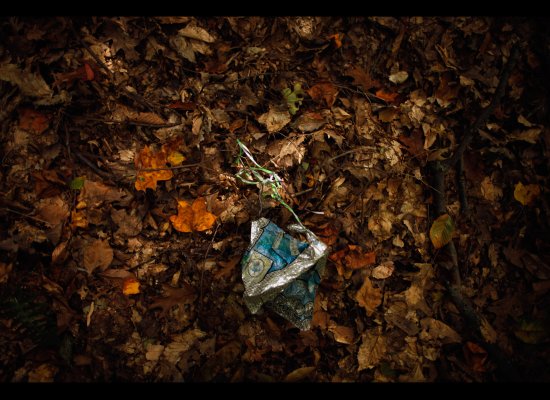 WASHINGTON - OCTOBER 18: A deflated birthday balloon is twisted in a fallen tree branch on the ground near the secluded part of Rock Creek Park where authorities say Ingmar Guandique murdered Federal Bureau of Prisons intern Chandra Levy in 2001 Authorities say that based on jailhouse conversations and letter he had written, Ingmar Guandique, an illegal immigrant from El Salvador, attacked, raped and killed Levy in the DC park in 2001. Gary Condit, a 5-term Democrat representing California, was a suspect in the case due to information surfacing regarding an affair with the missing intern.
Casey Anthony Trial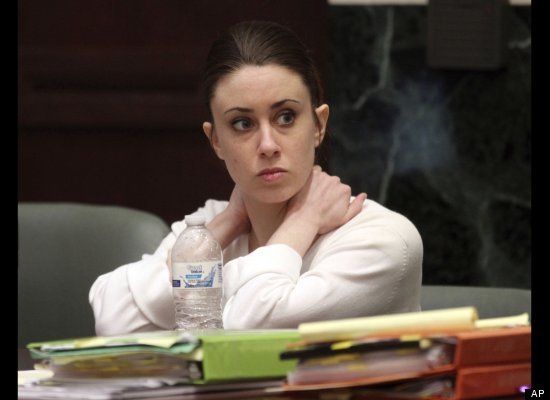 Casey Anthony sits in court during her murder trial at the Orange County Courthouse, Tuesday, June 28, 2011, in Orlando, Fla. Anthony, 25, was found not guilty with killing her daughter Caylee in the summer of 2008
by
Add your quick reply below:
You must be a member to reply to this post.
Replies:
There are no replies to this post.