The CafeMom Newcomers Club
Tweet gets restaurant customer kicked out **Update**
HOUSTON -- It may be the first-ever case of its kind: A diner was kicked out of a restaurant not for something she did, but apparently for something she said online.
The social media smackdown happened at the Down House restaurant in the Heights, located at 1801 Yale Street.
The Down House owner Chris Cusack said the customer called the bartender a "twerp" on Twitter, and the manager showed her the door.
One of the restaurant's managers, who wasn't working that night, read the "twerp" comment on Twitter. He called the bar and asked to speak to the customer. Over the phone, he asked her to leave.
"Any business is allowed to set the tone of their establishment," Cusack said. "If you go to someone's house and start calling them names, I wouldn't really expect to stay too much longer after that."
The kicked-out customer is Allison Hiromi.  On her Twitter page, she described herself as opinionated, extroverted and feisty.
After being ask to leave the restaurant, she tweeted: "Left Down House in tears after the GM called up and asked the bartender to hand me the phone. He proceeded to curse at me and ask me to leave."
A lot of people on Twitter are talking about what happened.
One person said they'll never go to Down House again, and another customer called it a disappointment.
A third person wrote, "I think Down House owes Allison Hiromi a big apology. Welcome to a PR nightmare."
But Barbara Magana-Roberston, a public relations representative who owns Magana Media, said all the talk, whether positive or negative, may actually be a good thing for the restaurant in the long run.
"There may be people who never hear about this restaurant or know about this restaurant," she said. "They do now."
http://www.click2houston.com/news/28888109/detail.html
The original tweet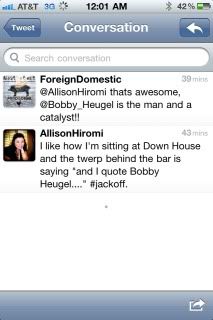 Co-Owners statement
Howdy, I'm Chris, and I co-own Down House here in the Houston Heights.
Like so many arguments, this one could have been avoided with better communication. It's silly and unfortunate that anyone has to spend their time on this—it's hardly "breaking news," and all of us have much better things to do. But because the Press and Channel 2 seem to think it's newsworthy I figure it's at least worth it to tell things from my perspective.
Anyone who knows me knows that brevity is not my strong suit, so if you don't feel like reading all this, I'll give you the bullet points and then go into more detail:
- First, nobody at Down House will ever begrudge anyone on their opinion regarding our food, drinks, service, décor, or anything else related to the the business. Twitter, Facebook, Yelp, Gowalla, whatever—I thrive on constructive criticism, and most of the time it helps us make genuine improvements to the business.
- If someone comes into your business or your home and goes out of their way to call you names in a public forum, they can hardly expect to be welcomed with open arms. Our employees are our family, and we will defend them if they are being attacked unjustifiably.
- I don't want anyone leaving my restaurant in tears, and I sincerely apologize that a hasty decision was made before we had a full conversation about what went on. That being said, I believe our bartender is due an apology. He's a great guy, a brilliant and creative bartender, and undeserving of the names he was called.
- I don't know Allison, but we are friends on Facebook, and I've been following her many tweets for sometime. She certainly seems as her Twitter profile describes her, and I think she definitely deserves her recent Houston Press award.
- I'm sorry, I have to say this: Man, people get crazy on the Internet! The ugliness coming from some people is so much more extreme than anything that was even suggested as coming from us. It really is hurtful. On the other side, a big thank you to the many folks who are supportive of us, although I suspect that they may be equally misinformed. :(
Here are the events as I see them:
Allison came into the restaurant and had a couple of beers. Apparently somewhere along the way she overheard one of our bartenders quoting Bobby Huegel, one of the owners of Anvil. This particular bartender studied under Bobby, and I know they have a very good relationship. The quote was something along the lines of "To quote Bobby Huegel, 'Smith and Cross (a semi-obscure navy-proof rum) is really only appreciated by cocktail geeks unless you use it mixed in a cocktail.'" Now I don't know what Allison heard. But I do know that she tweeted:
"I like how I'm sitting at Down House and the twerp behind the bar is saying "and I quote Bobby Heugel...." #jackoff"
Later she indicated that she was just trying to protect Bobby, but it was a harmless conversation between two people that had nothing to do with her, and apparently she misunderstood it. (I called Bobby personally after all this happened, and he knows for certain that there is no bad blood and we have nothing but love and respect for him and Anvil and Hay Merchant.)
Based on that tweet, I don't see how she indicated that the bartender was insulting Bobby. I kinda think that excuse doesn't land. It seems more likely that she wanted to make fun of him for named-dropping Bobby's name, and that's what it looked like to our GM Forrest as well.
Shortly afterward Forrest saw the tweet and called Down House and spoke to her. I can't tell you exactly how their conversation went, but I do know Forrest well enough to be sure that he behaved completely professionally. If she can say with certainty that he cussed at her and called her names or did anything than curtly invite her to end her experience at Down House that evening, I genuinely want to hear about it. But I've seen Forrest in action for many years and that's just not how he rolls.
I can tell you that if I were there, I probably would have dealt with this situation differently. I probably would have chatted with her, made friends, casually brought it up, and perhaps shifted the conversation to the topic with the hopes that the tweet would be removed before the bartender saw it. We may have ended up with the same outcome—who knows. At the end of the day, it is our responsibility to protect our staff, and I think standing up for them when someone calls them a jackoff is a positive move. Unfortunately they won't let you say "jackoff" on the news. I tried.
I take full responsibility for not responding sooner, for not clarifying the details, and for not talking to Allison directly and clearing things up. The Internet moves fast, and I've had my hands full lately.
Anyway, I'm all ears if you have questions, comments, criticisms, or anything else to say. Thanks for hearing me out.
--Chris
chris@downhousehouston.com
by
Add your quick reply below:
You must be a member to reply to this post.
Replies (1-10):
Add your quick reply below:
You must be a member to reply to this post.