The CafeMom Newcomers Club
http://www.huffingtonpost.com/2011/08/17/charinez-jefferson-pregna_n_929165.html?icid=maing-grid7%7Cmain5%7Cdl1%7Csec1_lnk1%7C87280
Charinez Jefferson, Pregnant Chicago Teen, Fatally Shot, But Baby Saved (VIDEO)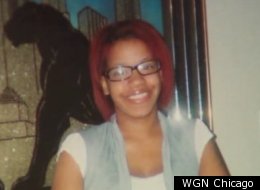 Charinez Jefferson.
A baby boy is "fighting for his life" early Wednesday after his 17-year-old mother was fatally shot on Chicago's South Side.
Charinez Jefferson was walking with friends in the 3000 block of West 64th Street about 10:35 p.m. when a man ran toward the group and began shooting, Chicago Police Officer Ronald Gaines told the AP. Jefferson, who was about six months pregnant, suffered multiple wounds to the body and one shot to her head.
Fire Department spokesman Will Knight said she was rushed to Advocate Christ Medical Center in Oak Lawn in critical condition. According to the Chicago Tribune, paramedics placed the teen on advanced life support while they worked to save her baby.
"I really don't know what happened," the teen's mother told the Tribune. "She was going to the corner store. She stopped to talk to a guy she knew and someone drove up and opened fire. That's what I've been told. I got down there but they already roped it off. I couldn't get to her."
According to the Chicago Sun-Times, Jefferson was walking with a friend of her boyfriend when the gunman approached. She reportedly said "Please don't kill me," to the gunman before she was shot.
The teen's mother does not believe her daughter was the gunman's intended target. Jefferson also has a 1-year-old child and was entering her junior year at Banner Therapeutic Day School, according to NBC Chicago.
The baby, which weighed 7 pounds and 3 ounces when he was delivered late Tuesday, was in critical but stable condition early Wednesday.
Nobody else was hurt in the shooting. No one has been arrested.
WATCH WGN's coverage of the shooting here:
by
Add your quick reply below:
You must be a member to reply to this post.
Replies (1-2):
Add your quick reply below:
You must be a member to reply to this post.