The CafeMom Newcomers Club
Last August Tori's dad got into a car accident & shattered his leg, he got taken to a crappy hospital who gave him a staff infection & as of a couple months ago he STILL had a broken bone in his leg & a hole - literally you could see the bone (SORRY for the image!). But* He was able to walk, he had a "cage" on his leg & was able to do everything he normal could do, with a little limp. He sure as heck had no trouble getting around to hang out with his friends or anything along those lines. Well, in June - Welfare set up a court date for me for child support & when I went for the "confrence" I decided to take action & go for full custody since he wasn't seeing her or if he was it'd be once a month IF that & only time she talked to him was if I happend to get ahold of him when I called. The confrence came along & he didn't show - so it went in front of the judge. DIDN'T SHOW again, so I got awarded full custody & a Child Support order of 65$ a week with 10$ extra for arrears. That was end of June, beginning of July something like that. Now it's almost October & I haven't recieved one single penny, even though he told me he could actually pay me more. Tori had surgery on her umbilical hernia && of course, something happened & he couldn't be there for her. It's just always one excuse after another. SO! Skip all that, when it reached the $600s I let him know how much he owed. He then got an attitude & told me he has a lawyer & is taking me to court to fight the child support & to get all the arrears off so he doesn't owe anything & wont have to pay anything. BECAUSE of his attitude I then told him he could pretty much go to hell, he's not seeing her until he wants to be involved - I'm not trying anymore! He hasn't since tried getting ahold of her or anything. I heard* don't know if it's true, that he's doing Heroin now, and He now owes close to $1000 && I called my CS case worker & she told me she's sending out a notice of court - for child support enforcement. If he still doesn't pay, she's going to put a bench warrent stipulation - so anytime I want if he's not paying I just have to call & she'll send out a warrent I guess. AM I WRONG?! I mean, she started Pre-K this year & I had no money to get her school clothes or anything! Thank god for my mom & my boyfriend who helped get her stuff & BIG THANKS to my good friend who gave me a ton of clothes! Even if they are hand-me-downs they are a BIG huge help! Her birthday is coming & then Christmas & I never get help. It FRUSTRATES me more than anything. And I even still tried to give him a chance to come see her get on the school bus for the first time, BECAUSE SHE WANTED HIM THERE. I could give a crap less what he's doing, but she misses him...for now. She's been starting to tell people she "saw her daddy, last year" & "I saw my daddy 2 times, that's all he gave me". It breaks my heart because I know she loves him, I just wish he'd be involved like he used to be instead of just DROPPING out of her life at 3yrs old!!

Anyways, I'm done venting,- time to finish laundry & cleaning the living room! My boyfriend & I are renting out the basement of my moms house until we save up enough $ to get our own place! [:

OPINIONS ANYONE?
(: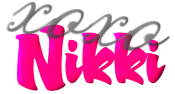 by
Add your quick reply below:
You must be a member to reply to this post.
Replies (1-2):
Add your quick reply below:
You must be a member to reply to this post.