The CafeMom Newcomers Club
UPDATE- Arrest made & charges filed. TX Mom fatally shot, newborn kidnapped outside doctor's office
For anyone following the story I've added an update.
A woman was shot multiple times in the parking lot of a pediatrician's office in Montgomery County, and then her newborn was kidnapped.

According to the Texas Department of Public Safety, at about 2:40pm the woman was shot multiple times. Authorities say the victim later died at Hermann Memorial Hospital in The Woodlands.

An armed woman kidnapped the victim's three-day-old baby from the parking lot at Borough Park and Sawdust.

The kidnapping victim is a baby boy, wearing a green and white one piece outfit that has 'Handsome' on the front. An Amber Alert has been issued for Keegan Schuchardt. The newborn is said to be 22 inches long and weighs six pounds and 15 ounces. He has very short brown hair. The suspect took his baby carrier.

The suspect is described as a black female wearing a gray sweatshirt and blue jeans, and carrying a small caliber pistol, possibly a 9mm. She is said to be in her 20s and thin, with gold hair.

The kidnapper was reportedly last seen driving a light blue or sea green newer model Lexus four door vehicle with an unknown license plate heading northbound on I-45 from Rayford Road.

Anyone with information about Keegan or the suspect is asked to call the Montgomery County Sheriff's Office at 936-760-5876.

Authorities say they've found the three-day-old baby who was kidnapped after his mother was fatally shot outside a Montgomery County doctor's office.

The Montgomery County District Attorney did not say where newborn baby boy Keegan Schuchardt was found, only that he was located shortly after 8pm and they are now trying to reunite him with his father.

We have not received any details regarding whether authorities have located the female suspect who shot and killed Schuchardt's mother, who's been identified as 28-year-old Kayla Marie Golden.
Update
HOUSTON (KTRK) -- Authorities have made an arrest and filed capital murder charges in the shooting death of a mother and the kidnapping of her infant in Montgomery County yesterday. According to court documents, capital murder charges were filed against registered nurse Verna McClain, 30, overnight.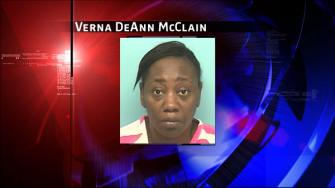 "Ms. McClain is currently charged with capital murder. Here in Texas, capital murder requires a felony to have been committed in the course of committing the murder," said Brett Ligon with the Montgomery County DA's Office. "It's obviously something we take very seriously and as part of it, we are requesting Ms. McClain be held with no bond."
Court documents also detail how McClain's sister told authorities that Verna had been wanting to adopt a child and now had that child.
"There were statements as indicated in the arrest record which were made by Ms. McClain, that led us to believe that this was an intentional act on her part not that Ms. Golden was targeted specifically but that this was part of a plan to kidnap a child," Ligon said.
Sky-Eye 13 HD was over the Fawnridge apartments on Sawdust as SWAT officers stormed an apartment unit on Tuesday. They found a woman and a Lexus matching the description of the one used in the kidnapping. There was a bullet hole and blood on the side of the vehicle.
Authorities questioned the woman and were able to locate baby Keegan at a home off FM 1960 in north Harris County.
"I can't stress enough to you the feeling that went through the law enforcement group when everybody realized that we were able to recover the child," said Ligon.
Authorities say they'll focus on the motive today. The baby has not been reunited with his father just yet.
by
Replies (21-30):
Add your quick reply below:
You must be a member to reply to this post.