The CafeMom Newcomers Club
Movie go-er slaps kid for being loud!!!!!
And you thought shushing was harsh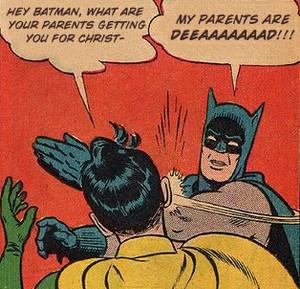 The odds are unfortunately good that we all have our fair share of moviegoing horror stories to vent about (which you're welcome to do in the comments section below). You go to a movie, and a stranger takes a phone call, sends texts, repeats every other line, translates every
single
line, attempts to add jokes to the experience, or simply proceeds with idle chatter. Sometimes, you shush to occasional effect. Sometimes, you get a manager and the jerk clams up. Sometimes, people threaten to come to blows out in the parking lot.
And sometimes, you mistake a popcorn-throwing, motor-mouthed misfit for a grown man and hit him hard enough to knock a tooth out and leave him with a bloody nose. According to the
Seattle Post-Intelligencer
, a 21-year-old attendee of an unknown 3D movie was fed up enough to do just that, only to not realize how young his adversary was... and that his mother was apparently sitting beside him. The man now faces felony charges.
Was the man wrong for lashing out physically? Yes. Was the mother wrong for not keeping the behavior of those children in check? In all likelihood. Could the kid have had a loose tooth already? It's possible. The point is, don't do any of it. Don't talk. Don't slap. Don't throw popcorn. You know what, just don't leave your house. It's easier that way.
by
Add your quick reply below:
You must be a member to reply to this post.
Replies (1-10):
Add your quick reply below:
You must be a member to reply to this post.