The CafeMom Newcomers Club
Boston Mayor's Letter To Chick-Fil-A President: Anti-Gay Stance Is 'Insult' To City Chick Fil A fires back!!!!!!!!!
The media firestorm over Chick-fil-A's financial contributions to anti-gay organizations seems to have no end in sight.
Now, after Boston Mayor Thomas Menino vowed to block the fast food chain from opening a franchise in his city, a letter penned by the Massachusetts lawmaker to Chick-Fil-A President Dan Cathy has surfaced in the blogosphere. That letter, which was posted to Boston's official Facebook page and has since been picked up by a number of media outlets including Towleroad, is dated July 20 and reads as follows:
"In recent days you said Chick-fil-A opposes same-sex marriage and said the generation that supports it has an 'arrogant attitude.'

Now -- incredibly -- your company says you are backing out of the same-sex marriage debate. I urge you to back out of your plans to locate in Boston."
It continues:
"You called supporters of gay marriage 'prideful.' Here in Boston, to borrow your own words, we are 'guilty as charged.' We are indeed full of pride for our support of same-sex marriage and our work to expand freedom to all people. We are proud that our state and our city have led the way for the country on equal marriage rights...

There is no place for discrimination on Boston's Freedom Trail and no place for your company alongside it."
View the letter in full below, then scroll down to keep reading: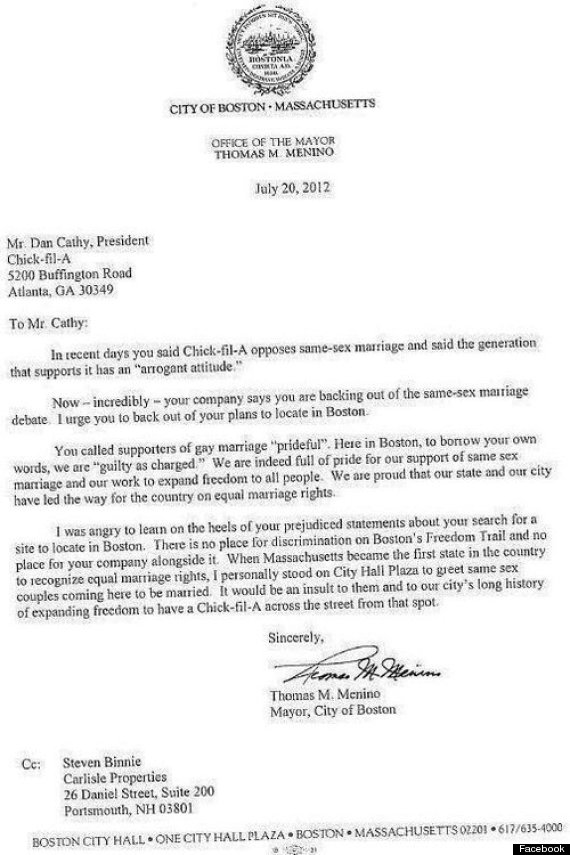 Menino's letter is merely the latest twist in what has become a public relations debacle for the Atlanta-based fast food chain, with both marriage equality supporters and opponents responding to the news in equal measure.
Last week, the Jim Henson Company announced it was severing its partnership with Chick-fil-A over Cathy's professed anti-gay stance, while celebrities like "Hangover" star Ed Helms and "Glee" actor Grant Gustin have expressed their distaste for the fast food company.
On the other hand, former GOP presidential candidates Rick Santorum and Mike Huckabee have been outspoken in their support for Cathy and the franchise. Huckabee even encouraged people to patronize the fast food chain on Aug. 1, which he deemed "Chick-fil-A Appreciation Day."
Though Chick-fil-A's contributions to "traditional family" organizations like Exodus International and the Family Research Council have been well-reported for some time, the latest media onslaught began following remarks Cathy made in a July 16 Baptist Press interview. When writer K. Allan Blume pressed Cathy, who is the son of company founder S. Truett Cathy, about his company's contributions to those established anti-gay organizations, he responded, "Well, guilty as charged."
He continued, "We are very much supportive of the family -- the biblical definition of the family unit. We are a family-owned business, a family-led business, and we are married to our first wives. We give God thanks for that...we know that it might not be popular with everyone, but thank the Lord, we live in a country where we can share our values and operate on biblical principles."
The owner of a Chicago Chick-fil-A franchise that created 97 jobs has a message for Mayor Rahm Emanuel – eat more chicken.
"I would like to invite Mayor Emanuel into my restaurant to meet me, my husband Steve, and my management staff," said Lauren Silich in a letter posted on the restaurant's Facebook page.
FOLLOW TODD ON FACEBOOK FOR CULTURE WAR UPDATES. CLICK HERE.
The invitation came after Emanuel declared that he would supports efforts by an alderman to block a second restaurant from being constructed because the Atlanta-based restaurant chain supports the biblical definition of marriage.
"Chick-fil-A values are not Chicago values," Emanuel said in a statement to Fox News, saying the comments "disrespect our fellow neighbors and residents."
Alderman Joe Moreno said unless the company comes up with a written anti-discrimination policy, he would not allow Chick-fil-A to open its first free-standing restaurant in the city.
Silich said Chick-fil-A located in Loyola Water Tower has "been dedicated to serving all of our guests with honor, dignity and respect."
"We are a family of deep Chicago roots – my husband and I both came from city worker families (teachers, police, laborers) and Steve is a city worker," she noted. She also said they've supported, hospitals, schools, churches and even LGBT groups.
At stake could be the loss of jobs from companies that share similar personal beliefs. If the city cracks down on Chick-fil-A, could other businesses be forced out of Chicago?
"We alone created 97 jobs this past year and our passion is building leaders for future generations, regardless of sexual orientation or beliefs," Silich noted. "We are not a corporation – we are real people and taxpayers as each Chick-fil-A franchise is independently owned and operated."
SARAH PALIN AND MARK LEVIN LOVE TODD'S BOOK – DISPATCHES FROM BITTER AMERICA – CLICK HERE!
Newspaper editorial boards and religious liberty organizations have blasted the Moreno's declaration – calling it a violation of the U.S. Constitution.
Mat Staver, president of the Liberty Counsel, said it's unconstitutional.
"No city can ban Chick-fil-A because the president has his own view regarding marriage – a view that his held by much of the American public," Staver told Fox News. "To discriminate against Mr. Cathy because of his biblical view and then to extrapolate that to Chick-fil-A is illegal. It would be unconstitutional and certainly any city trying to do so would not win that battle."
Staver called Emanuel's remarks offensive and accused the city of trying to "bully them into silence."
"This is a very intolerant response by Rahm Emanuel and some of the others who are pushing back against Chick-fil-A," he said. "It is absolutely incredible that we are at a point in history where an individual who is an owner of a company can express his view on marriage and get so much push back."
Staver said there is absolutely no evidence that Chick-fil-A has discriminated against homosexuals. They serve all people equally, he said.
He also took issue with the idea that the restaurant's values differ from those of Chicagoans.
"I imagine Chick-fil-A's values are not Rahm Emanuel's values, but I'm sure the values of Chick-fil-A resonate with a majority of people in Chicago," Staver said.
Former Alaska Governor Sarah Palin said she was appalled by Emanuel's statement.
"Chicago thuggery is a scary thing in 2012," Palin told Fox News. "For its politicians to think they can muscle businesses and shut them out just because they hold a differing, albeit traditional, view on an issue is a scary thing indeed."
Moreno said he does not dispute that the owner of Chick-fil-A has First Amendment rights – but, he warned, there are consequences.
"There are consequences for freedom of speech (and) in this case the consequences are…you're not going to have your first free-standing restaurant in Chicago," Moreno told Associated Press.
Regardless of what happens, Silich said they will still be serving chicken sandwiches and sweet tea.
"We will continue to serve our guests in the only way we know how – with great food, exceptional service and a lot of fun," she wrote.
Last week, Boston Mayor Thomas Menino told the Boston Herald he would block Chick-fil-A from opening a restaurant in the city. And city officials in Mountain View, Calif. are considering similar action.
by
Replies (41-50):
Add your quick reply below:
You must be a member to reply to this post.