The CafeMom Newcomers Club
four days after thanksgiving my best friend that i had since 5th grade came to see me before she went back to ohio so i finally got to meet her 9 month old daughter. before she left, she asked me if a guy we knew in school had died because she heard that he did and i told her i didn't know and that was the first time i heard about it. well i finally heard something about it and here is what happened: daniel was comin home one night from the movies or wherever he was coming from and something happened and he wrapped his car around a tree. i guess it killed him instantly. i sent my friend a comment on her myspace page telling her and when i got online this morning before i got my oldest up for school, i had received an email from her on myspace and she told me that he left behnd a wife ( she's 21), a daughter, and an unborn child which she found out after he died. he was barely in his twenties and he is dead and i am literally in tears as i am typing this. i sent his wife and sister a friend's request on myspace in hopes of letting them know that i am there for them. i live like 3 minutes away from his dad's church and like 10 minutes from his parents' house. his mom was my favorite teacher but now she is no longer teaching.
i feel so guilty because i get to wake up everyday with my husband beside of me and she doesn't get to see daniel until she dies when she will finally be reunited with him. his unborn child would not know his or her daddy and his daughter is still too young to know what happened to daddy and why daddy isn't around anymore. i guess he has been dead since sept. 5th 0f this year and i never heard anything about it until here recently. i am so upset for his family so please remember them when you pray ( if you pray) especially with christmas in 8 days.
well thats it for now because i cannot stop crying.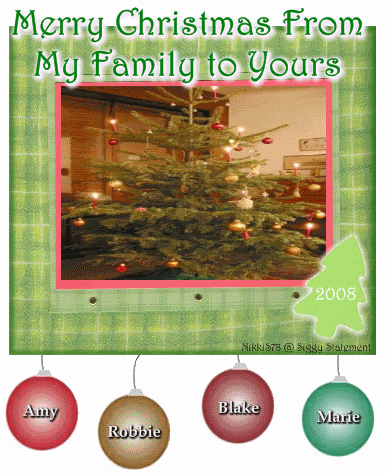 by
Add your quick reply below:
You must be a member to reply to this post.
Replies (1-5):
Add your quick reply below:
You must be a member to reply to this post.