The CafeMom Newcomers Club
Pot is not a gateway to heroin
Gateway to Nowhere? The evidence that pot doesn't lead to heroin.
Posted Thursday, July 20, 2006, at 11:57 AM ET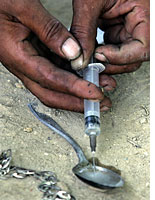 Earlier this month, professor Yasmin Hurd of the Mount Sinai School of Medicine released a study showing that rats exposed to the main ingredient in marijuana during their adolescence showed a greater sensitivity to heroin as adults. The wire lit up with articles announcing confirmation for the "gateway theory"—the claim that marijuana use leads to harder drugs.
It's a theory that has long seemed to make intuitive sense, but remained unproven. The federal government's last National Survey on Drug Use and Health, conducted in 2004, counted about 97 million Americans who have tried marijuana, compared to 3 million who have tried heroin (166,000 had used it in the previous month). That's not much of a rush through the gateway. And a number of studies have demonstrated that your chances of becoming an addict are higher if addiction runs in your family, or if heroin is readily available in your community, or if you're a risk-taker. These factors can account for the total number of heroin addicts, which could make the gateway theory superfluous.
On close inspection, Hurd's research, published in the journal Neuropsychopharmacology, doesn't show otherwise. For the most part, it's a blow to the gateway theory. To be sure, Hurd found that rats who got high on pot as adolescents used more heroin once they were addicted. But she found no evidence that they were more likely to become addicted than the rats in the control group who'd never been exposed to delta-9-tetrahydrocannabinol, or THC, marijuana's main ingredient.
by
Add your quick reply below:
You must be a member to reply to this post.
Replies (1-10):
Add your quick reply below:
You must be a member to reply to this post.