The CafeMom Newcomers Club
Chocolate Whoopie Pies , PIOG
I made these this morning for my son to bring to school tomorrow. I thought I would share. They came out good.
Cake

1 cup shortening
2 cups white sugar
2 eggs
2 teaspoons vanilla extract
1 cup sour milk
2 teaspoons baking soda
1 cup hot water
4 cups all-purpose flour
1 cup unsweetened cocoa powder
1 teaspoon salt

Preheat the oven to 400 degrees F (200 degrees C). Grease cookie sheets.
In a large bowl, cream together 1 cup of shortening and white sugar until light and fluffy. Beat in the eggs one at a time then stir in the vanilla and sour milk. Combine the flour, cocoa and salt, stir into the creamed mixture. Stir together the baking soda and hot water then mix them into the batter last. Drop by tablespoonfuls onto the prepared cookie sheet.
Bake for 8 minutes in the preheated oven, until firm but not overbaked. Allow cookies to cool on baking sheets for a few minutes before removing to wire racks to cool completely.

Chocolate Buttercream Filling

1 cup unsweetened cocoa
3/4 cup butter
4 1/2 cups confectionary sugar
1/2 cup of whole milk
3 tsp vanilla extract

Mix cocoa and butter until blended. Add remaining ingredients and beat on high speed with mixer until fluffy. Scoop into a large heavy duty ziploc bag and cut corner off. Pipe onto half of the cakes and cover frosting with the other half.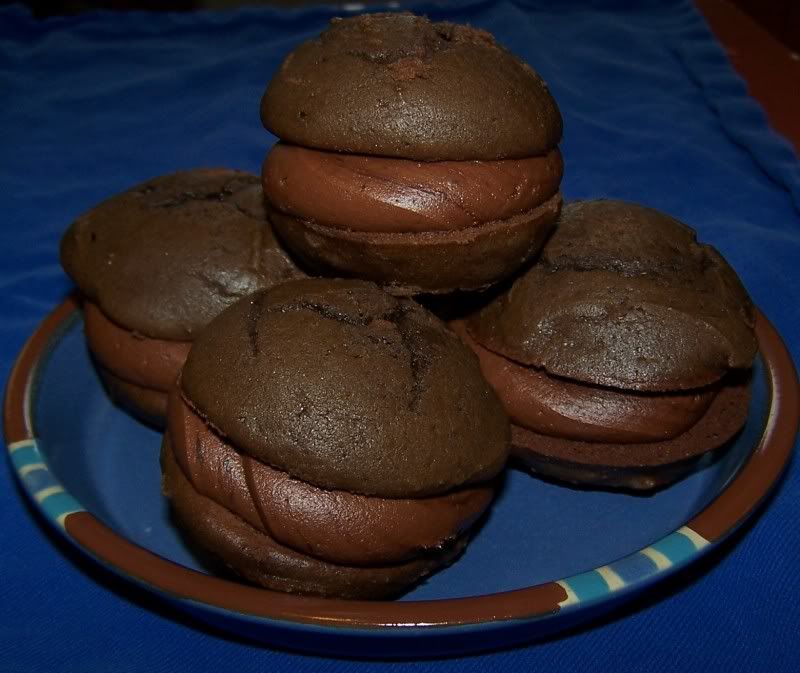 by
Add your quick reply below:
You must be a member to reply to this post.
Replies (1-2):
Add your quick reply below:
You must be a member to reply to this post.