The CafeMom Newcomers Club
Judge's Decision in Cyber-Bullying Case Sends Shockwaves
Lori Drew and Megan Meier
Photo by: Mario Anzuoni / Reuters / Landov; BARM / Fame Pictures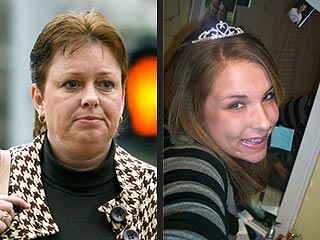 Lori Drew says justice was finally served - though nearly three years late.
The defendant in the case of a MySpace hoax that ended in a girl's suicide applauded a federal judge for tentatively dismissing her
conviction
that could have resulted in up to three years in prison.
"In my view, it was proper that this case was dismissed, primarily because I simply did not do what the U.S. attorney in Los Angeles accused me of doing," Drew, 49, said in a statement Friday.
Drew was convicted last November on three misdemeanor charges. Prosecutors had argued that Drew and an accomplice, who was granted immunity, pretended to be a teenage boy named Josh, and used that identity to at first flirt with 13-year-old Megan Meier, an emotionally troubled classmate of Drew's daughter, before turning on her.
Girl Hanged Herself
"The world would be a better place without you," the fake Josh wrote to Megan in October 2006. Meier responded, "You're the kind of boy a girl would kill herself over," then hanged herself in her bedroom.

A Los Angeles jury agreed that Drew was guilty of unauthorized computer access - a violation of a federal law designed to combat computer crimes. But then on Thursday, Judge George H. Wu tentatively overturned those convictions and acquitted Drew. "If she is to be found guilty of illegally accessing computers, anyone who has ever violated the social networking site's terms of service would be guilty of a misdemeanor," Wu wrote - suggesting that even someone who lied about their age would be guilty of a crime. "That would be unconstitutional."

Megan's mother Tine Meier was stunned by the ruling, and said on the Today show Friday, "I wouldn't want to be in Lori Drew's shoes and live her life. I think she's already basically living a life conviction right now."
Return to a Near-Normal Life
Drew said in her statement, "All members of my family share the Meier's grief in dealing with the loss of Megan. I hope Judge Wu's decision ... will be a turning point for all families involved in returning to a more-normal life."

But Meier, who is still deciding whether or not to file a civil suit against Drew, said that statement falls far short of an apology or true remorse. "Her making the statement that she shares my grief - absolutely not," Meier said. "She can't even come close to it."
by
Add your quick reply below:
You must be a member to reply to this post.
Replies (1-10):
Add your quick reply below:
You must be a member to reply to this post.