Organic Weed Control
How to Kill Weeds with Homemade weed killer and other Natural Methods
A statement of fact is that you can't prevent weeds 100%. But it is a fact that with a homemade weed killer or other organic weed control, you can limit, control, get rid of or kill most of these unwanted trespassers.
Politicians love to say "The fact is..." Which gets us suspicious because proven "facts" are often the last things you can find.
With weeds though we have ways and means... natural, easy and safe. Fact is we've proven it.
Now it's over to you...
Read on or skip to these recommendations. . . .
Change your soil to fix your weed problem—See main page on Garden Weeds
Smothering weeds
Vinegar as a homemade weed killer
Boiling Water to get rid of weeds
Flame and steam to kill weeds
Oil to eradicate weeds
Hand or hoe for organic weed control
Other natural weed control methods (chickens, tilth, solarisation etc.)
Corn gluten to stop weed seeds growing
Doubtful or dangerous dudes for killing weeds

Organic vs Chemicals
Organic weed killing methods are 'contact' killers. They work by destroying the plant matter that they touch. Do this enough and the weed has no greenery to carry out photosynthesis—it starves to death.
Chemical weed killers are mostly 'systemic'. They are absorbed or taken up by the plant and work from within, destroying and killing the whole plant, roots and all.
NOTE: There are living things in the soil and I know you care about them because you are an organic gardener reading this page.
Good on you... keep our wriggling, scurrying, multiplying beneficial soil friends safe by following these few basic steps when you use organic weed control methods:
Sometimes it's hard to pull or dig out weeds in paths or hard to reach places, and that's when most of these natural weed zapping ideas are useful.

Use these methods judiciously, both to keep weeds from competing with your good plants and for a tidy property. Tidy, who cares, you exclaim! But remember, one weed seeding is as bad as two love-struck rabbits...

Horrible monster weeds, such as gorse, blackberry, huge thistles and the likes, are best tackled first by cutting down as much as you can and then using one of these organic weed killing methods on the regrowth, over and over if necessary.

For plants with long tap roots, such as docks and dandelions; and for hardy plants with a large root spread or rhizomes, such as some grasses and creepers, you will need to attack any new growth after the first assault. This may mean several applications or multiple goes throughout summer.
Choose a calm, sunny day with no rain forecasted. Spray drift from a breeze can be sad, and the hot sun helps certain sprays, especially vinegar, to burn into the plants.
Cover over, or peg/tie back any nearby plants you DON'T want to harm. If there's any possibility of spray or splashes, better to be safe than sorry.
Attack the weeds only, avoiding the soil as much as possible. Spraying or burning the center or growing tip and sometimes the tops of the leaves is enough—no need to spray the undersides as you will probably do damage to surrounding plants and ground.
You also don't want to unnecessarily kill insects, such as in mid-summer when native bees zip and hover over the ground, then dive down with their load of pollen where they've laid their eggs into their little round holes they've dug out—very often in the fine soil between cracks in pathways.
Smothering Weeds
Unflappable, cool gardeners don't want to change the world; they just want to practice natural, easy ways to grow stuff. They like to get their hands in the dirt and they like to smother weeds before they become a problem.
HOW to be a weed smotherer
Follow the no dig principles on this website. The basis of no dig gardening is to follow Mother Nature's way and care for the soil from the top down. This almost gives you a weedless garden with a minimum of effort to fix any maverick stray weeds.


Disturb your soil as little as possible, otherwise you will change the natural layers and bring up dormant, buried weed seeds. These will perk into life when they see light and feel air.


Keep to paths and stepping stones. As well as keeping your soil aerated by not treading or wheeling things on it, it stops seeds being deposited there from traffic.


Smother with mulch at least yearly. Use the organic mulch recommendations that you have available... paper, compost, leaves, and so on.


If feasible, lay down drip irrigation so that water goes to plants roots and not all over the surface of the garden and paths.


Smother by overplanting—planting ground covers in flower gardens is a great way to fill up any bare spaces between your ornamentals.

In the veggie garden do the same. Plant some low growing companion plants, such as nasturtium or alyssum between your larger vegetables.

Plant herbs, strawberries, vines and quick growing edibles such as radish and salad greens with slow coaches such as broccoli, or climbers like peas'n beans.

The choices are many, just minimize open spaces.
Here's how to fix a few grass seeds that have blown in...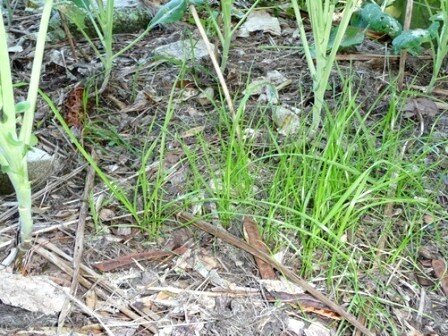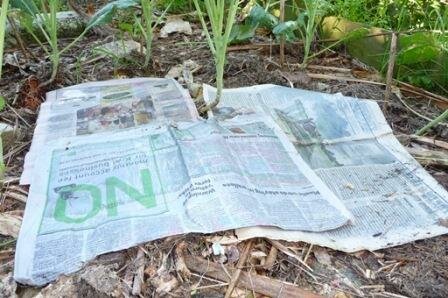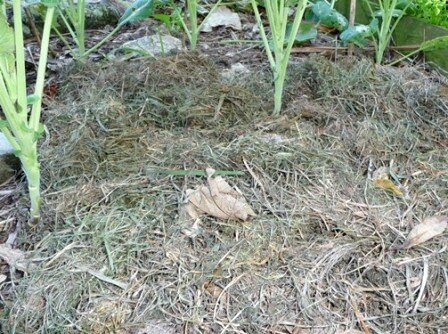 - See more at: http://www.no-dig-vegetablegarden.com/organic-weed-control.html#sthash.PEA7Wf0y.pFOaP8dG.dpuf
by
Add your quick reply below:
You must be a member to reply to this post.
Replies (1-1):
Add your quick reply below:
You must be a member to reply to this post.