Do you second guess yourself?
I do, and I hate it. I am an intelligent person. I don't make any decisions without spending a lot of time thinking about it, researching, etc.
Why do I still doubt myself?!?
Last week, my son was ill. I never figured out what was wrong, I guess it was just a bug. On Saturday, my daughter started complaining of ear pain. Monday morning, she was worse.
I decided to take both of them to the urgent care clinic. oh gawd, that was stupid of me!
Well, when I got there, there was a misunderstanding about the fees. She told me $90 for both, she meant $90 for each. Well, my son is feeling better anyway and I don't have $180 to waste so I cancelled his appointment and of course, they looked at me like I was CRAZY and neglecting my child. Ugh.
Then of course they ask about vaxs. When I told her we don't vax, she sat there writing on our little sheet for EVER.
Then the doctor came in. She treated me like I was a moron, which I felt pretty dumb being there in the first place. Turns out that Libby does NOT have an ear infection, which I knew because I looked in her ear and could see that it was not red and there was no wax build up.
I forgot to look in her nose, which is stopped up and creating pressure in her ear. Why did I doubt myself? I knew she was not sick, I just did not trust my instincts.
I really need to STOP doing that!
Anyway, the doctor asked why I don't vaccinate. After her pushing the issue for a moment, I just kindly smiled and said, "I would really rather not talk about it, we are here about her ear, not to talk about vaccinations."
She dropped it for a moment, but then a few moments later, she asked me if I was a Christian.
NOW THAT I found to be COMPLETELY inappropriate. I don't know why, but it pissed me off! I have nothing against Christians, but I don't feel as though she had the right to ask me that. Besides, IF my belief is a religious conviction, then I obviously do not forego vaxes because of a lack of faith in vaccines, so she wouldn't be able to convince me otherwise.
Oh yeah, and the other thing that annoyed me is that she asked if my children have a history of ear infections. I said no. She said, oh, is it because she stays at home all the time?"
At the time I did not think about it, I just nodded yeah. I wanted to get out of there.
But now that I think about it....No! The reason my daughter hasn't had ear infections is because 1. she's healthy, 2. she doesn't go to daycare, 3. she was breastfed, 4. she eats a diet of mainly vegetables, whole foods and organics. 5. She doesn't eat a ton of sugar or any foods that trouble our immune system and 6. she has a mom who knows natural remedies and preventions!
GAH! Okay, so she doesn't go to daycare....she doesn't stay cooped up in our home all the time either. My daughter goes EVERYWHERE with me- to the mall, the hospital, the doctor's office, playgrounds, playdates, public buildings (I own my own business so I spend a lot of time at the county courthouse. Hello? Germ central).
Anyway, I wish I had stood up formyself and said that yesterday. I seriously want to write them a letter now, just to say "My experience was crap and you owe me $90."
Oh, and I'm never going back to a traditional doctor again, unless someone is dying.
K, that was mah vent. If you read all of this, I love you!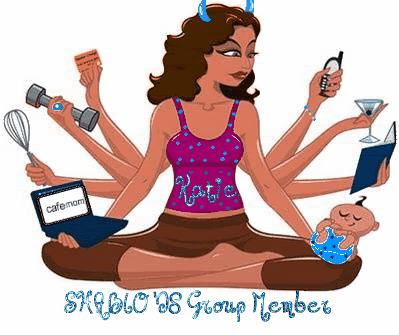 by
Add your quick reply below:
You must be a member to reply to this post.
Replies (1-10):
Add your quick reply below:
You must be a member to reply to this post.