gun discussion in a birthing group?
in a birthing group that i am in a moms wrote:
In my Due Date Group one of the ladies has her avatar set to a drawing of her pointing a gun, like straight on at you. After alot of consideration, I decided to report because I do feel that it is offensive. I am not saying she can not have it on her profile, just that I don't want it being her avatar because then I have to see it when reading a post she has replied to. Cafemom said it wasn't offensive and that they would not remove it. I replied asking why exactly, and they replied saying that I was being inconsiderate and ignorant. Like I said, she can have it all over the rest of her profile, for her friends to see, but don't force other people to see it. Am I being stupid about this whole thing?? I just find that a gun is offensive and I personally don' want to see it on a mom website.
ETA: I did find it upsetting when some of you ladies had your avatar changed because it was a breastfeeding picture, but there is a big difference between breastfeeding and a gun IMO.
to which i replied:
no, guns are not offensive. and unless it read something like "I'm going to kill you" under the picture of the gun pointing at you then there is nothing wrong with it. i also don't think pictures of breastfeeding or birthing to be offensive. but i don't like anyone saying i can not have a picture of something that is in my constitution to have. some people may find religious paraphernalia to be personally offensive. but that too, is a constitutional right to openly display. i don't like all that vampire and skulls stuff that i see everywhere either. but i wouldn't report it. its not hurting anyone. and they never say that it is the reason they are displaying that image. i love guns, i own several, and i carry one. as a mom i feel like i have a better handle on protecting my children when i carry one. there are a LOT more things to report as inappropriate on cafemom. guns are the least of the problem.
my husband showing my 3 year old how to shoot a 50 caliber rifle.
------------------------------------------------------------------------------------------------------
any opinions??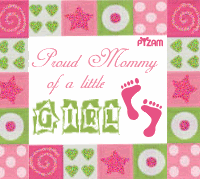 by
Add your quick reply below:
You must be a member to reply to this post.
Replies (1-4):
Add your quick reply below:
You must be a member to reply to this post.