Brittany Murphy's Husband Found Dead
Brittany Murphy's Husband Found Dead
Today 7:52 AM PDT by Marcus Errico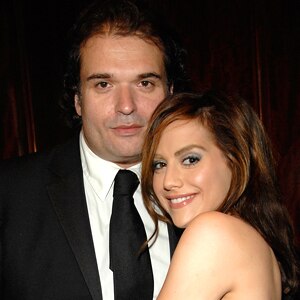 AP PHoto/Dan Steinberg
Nearly five months to the day after the shocking death of Brittany Murphy, the actress' screenwriter husband has been found dead in the master bedroom of the couple's Hollywood Hills home. Simon Monjack was 39.
Paramedics were called to the scene just before 9:30 p.m. Sunday. The person sounding the 911 alert was Brittany's mother, Sharon-who shared the home with her son-in-law and who made the heart-wrenching emergency call on the day her daughter died.
LAPD detectives and coroner officials were on the scene investigating, but police said there were no signs of foul play and Monjack appeared to have died of a heart attack. The medical examiner confirmed drugs were recovered.
"This evening Mr. Monjack was found unresponsive. Paramedics responded to the house, he was pronounced at [9:45 p.m.]," said coroner's lead examiner Ed Winter. "It appears to be natural.
"There were some prescription drugs found that belonged to Mr. Monjack and will have an ongoing investigation. The cause of death is pending. We will have an autopsy in the next day or so. And pending toxicology, we will be releasing results once we get all those tests back."
Winter added that "there were no illicit drugs located, just prescription meds."
The British-born Monjack's IMDb résumé included two films: a story credit on Factory Girl, the 2006 biopic of Andy Warhol sidekick Edie Sedgwick starring Sienna Miller; and as writer-director-producer of the U.K. indie drama Two Days, Nine Lives. He also dabbled in photography.
Murphy died of cardiac arrest in the same house on Dec. 20. The coroner ruled her death accidental, the fatal combination of pneumonia, anemia and prescription drugs, many of which were prescribed in Monjack's name. The Clueless star was just 32.
The last time Winter met Monjack was during the Murphy probe. "He was a despondent husband. The family is devastated over his passing and, like I said, it is under investigation. I ask that you give the family some privacy from this point on."
In February, Monjack came under scrutiny after it was learned he was trying to raise funds for the Brittany Murphy Foundation without applying for nonprofit status with the IRS. He wound up scuttling the foundation and returned all donations.
A month later, Monjack told E! News he was planning on selling the couple's home and moving to New York, along with Sharon.
"I believe whatever doesn't kill you simply makes you... stranger."
- Joker (Heath Ledger)
by
Add your quick reply below:
You must be a member to reply to this post.
Replies (1-2):
Add your quick reply below:
You must be a member to reply to this post.