40ish and beyond...
Ghost Legend of Resurrection Mary
The legend of Resurrection Mary:
Blond hair and blue eyes... She has been seen since the 1930s.
Legend says Anna Norkus went to a dance at O'Henry Ballroom - now called Willowbrook.
Apparently in an argument with her boyfriend she left the dance and started to hitchhike down Archer Ave
Between Willowbrook and Resurrection Cemetery she was hit by a car and killed...she was laid to rest in Resurrection Cemetery
Soon after her death people began seeing a girl in a white dancing dress and she had blond hair ... "hitchhiking" to Archer Ave.
There have been many,many encounters with Mary
In 1970 a young couple was driving down Archer Ave when the woman screams "Watch out for that girl!"
The young man slams on his brakes as a wisp of an image of a young girl dashes out in front to of their car...she had blond hair and was wearing a white dress
In 1976 Justice Police Department received a phone call from a man stating as he was driving past Resurrection Cemetery he seen a young girl locked behind the cemetery's gates
The police arrived and looked but no one could be found...
As the policemen shined their flashlights onto the gates of the cemetery they seen marks like hand prints burned into the heavy iron gates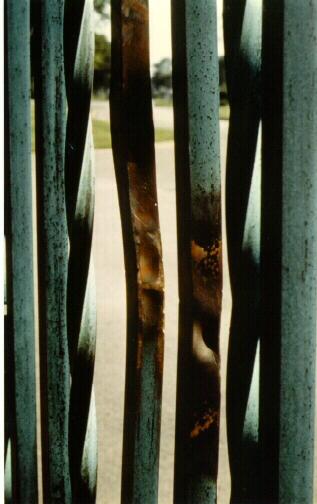 These marks had finger impressions and were skin textured
There are many reports of seeing a young girl standing on Archer Ave in the middle of the road and when approached... she just fades away...
Again blond hair and white dress
A taxi driver picked up a young girl along the road on Archer Ave
It was winter and she was in such a thin white summer dress...much too cold to be dressed like that he thought... so he picked her up
She dashed into the car but sat up front with him instead of the back seat like all other fares riding in his Taxi
He dared not look at her except out of the corners of his eyes for there was a cold...cold chill about her
He finally said "It is chilly huh?"...her reply "Winter came soon this year"
As he approached the cemetery...he turned his head to look at her and she was just gone
No slamming door as she exited the taxi...not a sound ...just GONE!
So many have reported seeing Mary and it still happens today
So if you ever visit Chicago ... take a drive down Archer Ave and who knows...maybe Mary will except a ride.
by
Add your quick reply below:
You must be a member to reply to this post.
Replies (1-10):
Add your quick reply below:
You must be a member to reply to this post.