Gena Lee Nolin's Message to Moms: 'Don't Sweat the Small Stuff'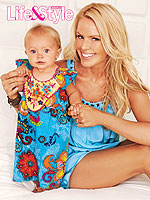 Courtesy Life & Style for use on CBB
She may be best known for her former role on Baywatch, but in a new blog for Graco, Gena Lee Nolin reveals her skills since becoming a mother reach far beyond the acting industry.
"I hold the record of watching The Wiggles 25 consecutive times…Yes!"
Her true accomplishments were no easy feat, however. While she loves the "responsibility of being a mom," Gena has had to learn to roll with the unexpected punches that she faces in raising her kids Spencer, 12, Hudson Lee, 3 ½, and Stella Monroe, 11 months.
"Like they say, don't sweat the small stuff," she advises fellow moms. "I think we all tend to worry about things that don't truly matter in the grand scheme of things."
Noting that her greatest joy to date when it comes to her children is "teaching them and watching them grow," Gena believes with each passing day her life becomes a bit sweeter. "Being a mom has been amazing and as I go I'm more and more aware of what's really important," she reflects. "It's scary and fun all in one!"
With Spencer entering into his teenage years, their mother-son bond continues to flourish. When asked to name her most recent wondrous moment with one of her children, Gena was quick to recall a chat with her oldest boy, calling the "positive adult conversation" a truly "rewarding" memory.
Moments such as these leave Gena cherishing her children more than ever.
"Be patient and enjoy because it goes by really fast…Now I sound like my mom!"
Hudson and Stella are Gena's children with her husband Cale Hulse, while Spencer is her son from her marriage to Greg Fahlman.
Source: Graco
– Anya
by
Add your quick reply below:
You must be a member to reply to this post.
Replies:
There are no replies to this post.