Paula Patton Places Her Bets On a Baby Boy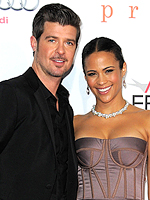 Jordan Strauss/FilmMagic
In her first public acknowledgment since her mother-in-law broke the news that the actress and her husband Robin Thicke are expecting their first child, Paula Patton revealed her bets are on a baby boy.
Appearing on 106 & Park to promote their new film, Precious, costar Gabourey Sidibe joked that she has taken to calling baby-on-the-way "Paulette," while the mama-to-be admits she would prefer to welcome a "Robette" come late spring.
Currently three months along, Paula says her pregnancy experience has been smooth sailing thus far.
"It feels good. A little less energy, but generally I'm feeling good."
Precious is now in theaters. Paula and Robin tied the knot in June 2005.
Source: 106 & Park via USA Today
– Anya
by
Add your quick reply below:
You must be a member to reply to this post.
Replies:
There are no replies to this post.