Ashley Jensen Welcomes Son Francis Jonathan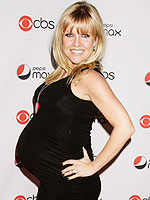 Francis Specker/Landov
It's a boy for Ashley Jensen and her husband, actor Terence Beesley!
The Accidentally on Purpose actress welcomed son Francis Jonathan Beesley — he's already going by the nickname of 'Frankie Jack' — on Tuesday, October 20th, her rep confirms to PEOPLE, adding that mother and child are home and doing well.
The couple chose not to find out the sex of the baby before delivery, Ashley told Celebrity Baby Blog.
"We thought there are so few surprises left in the world," the Emmy-nominated actress, 40, explains. "We wanted to be surprised, so we don't have the room painted pink or blue."
The couple, who eloped in January 2007 after seven years together, announced the pregnancy in July.
Ashley will be returning to work soon on the hit show Accidentally on Purpose, which airs Monday evenings at 8:30 p.m. on CBS.
– Blaine Zuckerman
celebrity-babies.com
by
Add your quick reply below:
You must be a member to reply to this post.
Replies:
There are no replies to this post.