Adriana Lima Welcomes Daughter Valentina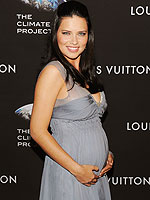 Dimitrios Kambouris/WireImage
Adriana Lima now has a little angel of her own: Victoria Secret's model, 28, and her husband, NBA star Marko Jaric, 31, welcomed a daughter on Sunday, November 15th in New York City.
"Adriana and Marko are thrilled to announce they had a baby girl, Valentina Lima Jaric," a rep for the model tells PEOPLE exclusively. "Mother, father and baby are all doing well."
Adriana met the Memphis Grizzlies star in 2006 and got engaged two years later on her 27th birthday. The couple eloped on Valentine's Day this year, tying the knot in a small, private civil ceremony in Jackson Hole, Wyoming.
Soon after the honeymoon, Adriana learned she was expecting. "We are so excited!" she told PEOPLE at the time. "We wanted this. We were ready."
"Even in my wildest days I knew that I wanted to be the ultimate family man," Marko adds. "We're ready to settle down."
celebrity-babies.com
by
Add your quick reply below:
You must be a member to reply to this post.
Replies:
There are no replies to this post.