Flight of the Conchords' Bret McKenzie Welcomes Daughter Vita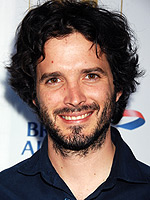 Roger Karnbad/Celebrity
In better-late-than-never news, Flight of the Conchords star Bret McKenzie is a first-time dad. The 33-year-old singer and actor welcomed daughter Vita with wife Hannah three months ago, he reveals to the New Zealand Herald, and has been "figuring out fatherhood" ever since. He quips,
"Um, I've got a lot of room to improve. It seems like it's quite a long-term commitment."
Baby girl has already shown that she's up to the task of being a celebrity baby, however, having flown with Bret and Hannah to the Emmy Awards in September. "She was amazing," the proud papa raves. "She was handing out the lollies and everything and she can't even hold anything yet."
Fans of the cult-smash HBO show shouldn't get their hopes up that Vita will make an onscreen appearance, however. Adds Bret,
"No. It wouldn't be a My Two Dads situation."
Source: New Zealand Herald
by
Add your quick reply below:
You must be a member to reply to this post.
Replies:
There are no replies to this post.