Stanley Tucci Dishes on His 'Proudest Moment' As a Dad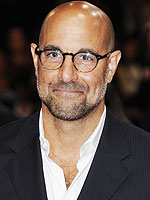 Maxppp/Landov
Earlier this year, Stanley Tucci suffered an unimaginable blow when Kate Tucci — his wife of 14 years — died of cancer. In the wake of that loss, the 50-year-old actor has taken over countless duties and in a new interview with WebMD magazine he says that there is one duty in particular he could live without.
"I'd rather be a sous chef at Lutesse than pack those darn school lunches," he jokes.
"My proudest moment is when I actually get the school lunches packed in time!"
In his upcoming film The Lovely Bones, Stanley portrays a pedophile and murderer, a role he describes as "the hardest thing" he's ever done. "I can't bear to watch anything where kids are getting hurt," he explains. "I was up in the air about [accepting the role]…It was a challenge, and I like a challenge. I'm glad I did it."
When it comes to explaining danger to his 9 ½-year-old twins Isabel and Nicolo and daughter Camilla, 7, Stanley says that "a little fear is OK." He elaborates,
"It's important for children to understand what they should and should not be afraid of. I worked closely with an FBI guy [for The Lovely Bones], and he would tell his own kid: 'See that guy over there?' He'd pick 'em out, and tell them exactly what to look for. But ultimately, we all have to keep a close eye on our children."
The Lovely Bones hits theaters December 11th.
Source: WebMD magazine
– Missy
by
Add your quick reply below:
You must be a member to reply to this post.
Replies:
There are no replies to this post.