Sherri Shepherd Lets Go of Mom Guilt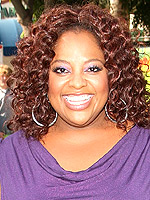 Jason Merritt/FilmMagic
Women do themselves a disservice by assuming so much guilt in their day-to-day lives, Sherri Shepherd says in a new interview with Express Night Out, and nowhere is that more apparent than when it comes to parenting.
"You can take your kid to the park and he can fall," the 42-year-old The View co-host points out. "A man will go, 'Did you hurt yourself? You aight. Get up, dust yourself off and get on back up there.'"
"We go, 'Oh my goodness! Did somebody see it? Are we bad mothers? What did I do wrong? And we'll play those tapes round and round. It'll be 10 years from now and we'll be going, 'You know what? It's cause you fell at the park.'"
In her new book Permission Slips: Every Woman's Guide to Giving Herself a Break Sherri details the point in her life when she decided a break was definitely in order!
"I guess when having a child and hitting 40…There's something that happens," she notes. "In your 20s, you really want everybody to like you. You're insecure. In your 30s, you still want people to like you. It's something about when you hit 40. You're like, 'I don't care. Get over it.'"
She's also felt more free to live in the moment with her son, 4 ½-year-old Jeffrey Charles. "I was invited to Diddy's party, and I had picked out my dress and everything," she explains.
"Then my son said, 'Mommy, take off your eyes' — which are my fake lashes — 'I wanna be with you.' And I looked down at him and was like, 'You know what? I need to be with my son.'"
Permission Slips: Every Woman's Guide to Giving Herself a Break is available now.
Source: ExpressNightOut.com
– Missy
by
Add your quick reply below:
You must be a member to reply to this post.
Replies:
There are no replies to this post.