Keri Russell: No 'Huge Shift' Since Becoming a Mom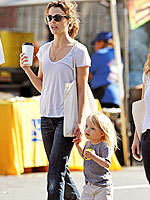 Pacific Coast News
While some women declare themselves completely transformed by motherhood, Keri Russell isn't among them. The actress has found — professionally, at least — that she's still very much the person she was before welcoming son River, 2 ½.
In the February issue of Parents, Keri says that although "it would be great" to make a film that River could watch now, she is "still pretty selfish when it comes to work." Keri, 33, adds,
"The stuff that interests me is still the stuff that interests me. That was a surprising thing about becoming a mom. You think that maybe there's this huge shift, but there's really not."
At the same time, River had a big impact on Keri's most recent role — that of a mom trying to save her two children who are dying of a rare genetic disorder in Extraordinary Measures. "I think I was more connected to the story," she admits. "When you hear about any kids being hurt or in trouble, it's impossible not to think of your own kid."
River is Keri's first child with husband Shane Deary.
Extraordinary Measures hits theaters January 22.
Source: Parents, February issue
by
Add your quick reply below:
You must be a member to reply to this post.
Replies:
There are no replies to this post.