Josh Holloway: 'There's a Reason Why Women Have Babies'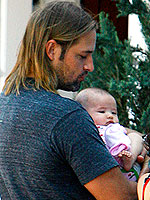 Limelight
Looks can be deceiving, in more ways than one! During a recent appearance on The Ellen DeGeneres Show, Josh Holloway was quick to downplay the notion that he appears well-rested.
"I'm good at faking it," the 40-year-old Lost star — dad to 9-month-old daughter Java — said. "She was up all night."
All the sleep deprivation has apparently begun to take a toll! Josh then launched into a humorous story about one early morning wake-up call that actually wasn't.
"Men … we say we get up at night and we try our best to get up at night, and be a warrior, and I was doing all that and still am," he explains, "but this is just how bad we are."
"I got up, and I am sitting there burping the baby when my wife scolds me. [She said,] 'What are you doing?' And I was just in shock. Like, 'What do you mean what am I doing?'"
Josh then told wife Yessica Kumala to "be quiet … I am burping the baby." His shock soon turned to confusion when Yessica, in turn, informed him that it was she who was in fact holding Java.
"I was burping the couch," Josh revealed with a laugh. "I had a pillow [and was burping it]."
"So we're not so talented. There's a reason why women have babies."
Source: The Ellen DeGeneres Show
by
Add your quick reply below:
You must be a member to reply to this post.
Replies:
There are no replies to this post.