Christel Khalil Hensley Welcomes Son Michael Caden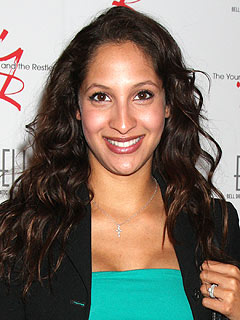 Hutchins
It's a boy for The Young and the Restless star Christel Khalil Hensley!
The actress, delivered son Michael Caden Hensley on Saturday, April 17th at 4:14 p.m., husband Stephen Hensley confirmed via Twitter. Baby Michael weighed in at 6 lbs., 6 oz.
"Thank you everyone that send prayers and love to our way," Stephen wrote. "We have a prince that is born! Thank you Father God for your grace and gift!"
This is the first child for Christel, 22, and her husband, who wed in September 2008. The couple announced the pregnancy in December.
Filed Under:
http://celebritybabies.people.com/2010/04/19/christel-khalil-hensley-welcomes-son-michael-caden/
by
Add your quick reply below:
You must be a member to reply to this post.
Replies:
There are no replies to this post.