Erykah Badu Opens Up About Single Motherhood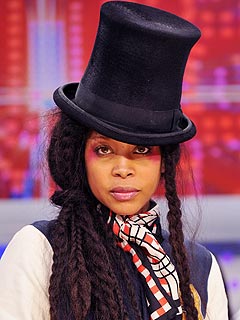 Bryan Bedder/Getty
A single mom-of-three, songstress Erykah Badu says that while she's holding her own, "no one chooses to raise children alone."
"When you're in a relationship you want it to work," she tells the UK's Telegraph. "My parents did, I did. But we are not taught how to make it work."
Noting that school prepared her academically, Badu laments that she wasn't "taught about human interaction, about relations with the opposite sex," and that she could have benefited from "compassion lessons."
With that said, the fathers of Seven Sirius, 12, Puma Sabti, 5½, and Mars Merkaba, 14 months, are "present a lot," insists Badu, who has plenty of female role models to draw from.
"I come from a long line of strong matriarchs," she explains. "I live in a queendom, ruled by a womb-iverse."
"My maternal grandmother's advice is: 'Keep living — it'll come to ya,'" Badu, 39, continues. "My paternal grandmother says: 'Just let God do it.'"
Describing herself as "a woman who has gone through many heartaches, enough to dedicate my whole life to trying to figure them out," Badu says that music has been cathartic.
"Being honest is my job," she explains. "That's what music is for me."
Filed Under:
http://celebritybabies.people.com/2010/04/18/erykah-badu-opens-up-about-single-motherhood/
by
Add your quick reply below:
You must be a member to reply to this post.
Replies:
There are no replies to this post.