Vanessa Williams: I've Matured As a Mother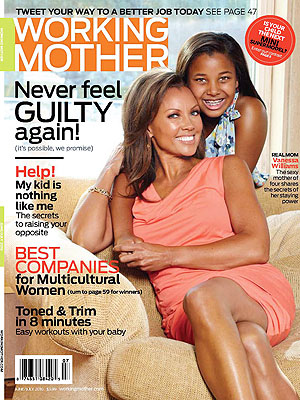 Courtesy Working Mother
Since welcoming her first child at age 24, Vanessa Williams' kids and career have always gone hand-in-hand.
"Just eight weeks after I'd had my second child, I had to go to England to promote my album for 10 days," the singer/actress tells Working Mother in their June/July issue.
"So I dragged my breast pump through airport security. I was so weepy to be leaving my newborn."
And while she always managed to be a consistent presence in Melanie, 22, Jillian, 20, Devin, 17, and 10-year-old Sasha Gabriella's lives, Williams admits in retrospect that she would have done things differently given a second chance.
"Maybe 10 years later, I'd have said no to the trip. As you get older, you get stronger and more confident, and you get more accustomed to saying no and to knowing your boundaries," she says. "Things change as you mature."

Relying heavily on her own parents — as well as a high school friend that has been the children's nanny for 19 years — for support, Williams, 47, is quick to point out that "it really does take a village" to raise a family.
"You still try to do everything you can to be with your kids," Williams notes. "I remember flying from Tokyo to New York for a confirmation party for my daughter, and then back to Tokyo to perform. But you can only do so much, and you have to forgive yourself."
– Anya Leon
http://celebritybabies.people.com/2010/05/22/vanessa-williams-ive-matured-as-a-mother/
by
Add your quick reply below:
You must be a member to reply to this post.
Replies:
There are no replies to this post.