Idina Menzel Currently Living In a 'Baby Zone'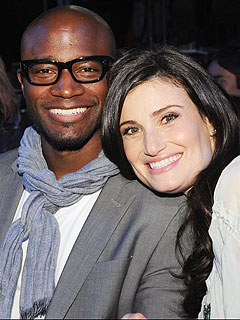 Michael Becker/FOX/PictureGroup
Since welcoming her first child with husband Taye Diggs last fall, Idina Menzel's life has been turned upside down by son Walker Nathaniel.
"It's a baby zone," the actress tells USA Today of her New York City apartment.
Eight-month-old Walker's gear is even visible on the set of Glee, where Menzel plays Vocal Adrenaline coach Shelby Corcoran.
"It's tough because I'm still nursing," she explains.
"In the trailer, I have my pump, and on breaks I had to go in and set up my human-cow situation and they'd call me back."

However, the arrangement has proven ideal for the first-time mother, who says she isn't prepared to return to full-time work just yet.
"It's perfect because I wasn't ready to leave home," Menzel, 38, says. "I can come once a week and do my job and go home and be with the baby. For that, it's been amazing."
And while Menzel is "really jonesing" to return to the Broadway stage, Walker's bedtime routine is keeping his mama close — for now.
"I need to find the right project," the former Wicked star admits. "I like putting Walker down to sleep every night. That's the thing that would bother me."
– Anya Leon
http://celebritybabies.people.com/2010/05/24/idina-menzel-currently-living-in-a-baby-zone/
by
Add your quick reply below:
You must be a member to reply to this post.
Replies:
There are no replies to this post.