Family Photo: Holly Robinson Peete's Big Apple Bunch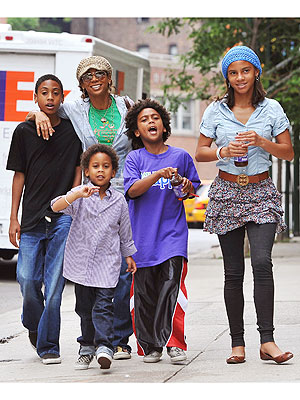 Bauer Griffin
Combining work and motherhood, Holly Robinson Peete was spotted checking out her Snapple booth Monday in the Big Apple.
The Celebrity Apprentice runner up took video of her kids — twins Rodney Jr. and Ryan, 12, as well as Robinson, 6½, and Roman, 5 — as free samples of her Compassionberry Tea were handed out to New Yorkers.
Although Bret Michaels and his Trop-A-Rocka Blend ultimately took the title, Robinson Peete received a prize of her own as well — she was awarded $250,000 for her HollyRod Foundation.
RELATED: Holly Robinson Peete: 'I've Evolved' As a Mother
http://celebritybabies.people.com/2010/05/25/holly-robinson-peete-kids-celebrity-apprentice/
by
Add your quick reply below:
You must be a member to reply to this post.
Replies:
There are no replies to this post.