Family Photo: The Bryants Do Disney!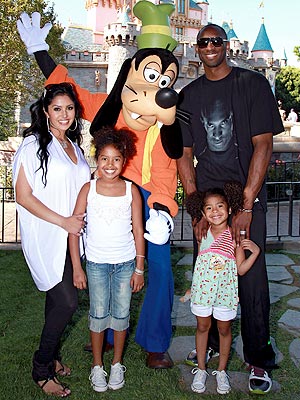 Paul Hiffmeyer/Disney/Getty
Posing with Goofy, Kobe Bryant and his ladies — wife Vanessa and daughters Natalia Diamante, 7, and Gianna Maria-Onore, 4 — celebrate last week's Lakers win over the Boston Celtics with a trip to Disneyland on Tuesday.
Calling his elder daughter a "hard core" basketball fan, Bryant, 31, says they also enjoy playing videogames together.
"My daughter…likes to play princess games. I play with her, actually," he shares. "She plays the basketball games too, but mostly, she plays all the princess games."
RELATED: Spotted: Kobe Bryant and His Little Laker Ladies
http://celebritybabies.people.com/2010/06/25/family-photo-the-bryants-do-disney/
by
Add your quick reply below:
You must be a member to reply to this post.
Replies:
There are no replies to this post.