Cole Hamels Hopes to Adopt Child From Ethiopia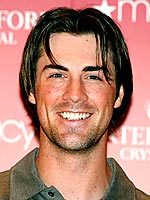 Tom Walck/PR Photos
There probably isn't much that 2008 World Series MVP Cole Hamels has in common with Madonna, except for their shared heartbreak over an inability to adopt a child from Malawi. Like Madonna, the 25-year-old Philadelphia Phillies ace and his wife — Survivor alum Heidi Strobel — had hoped to find a child in the tiny African nation, but to no avail, for the residency requirement was too burdensome for the couple. "There is no way we could live over there for two years," Cole tells the Philadelphia Inquirer.
"It shouldn't be so hard to try to give someone a better life. The government in that country, it's shady."
Cole and Heidi have since turned their search to Ethiopia. "We're working through a stack of paperwork this thick," Cole explains, displaying a width of several inches. The couple is determined to make their dream of adoption a reality, however. "This is something we've always wanted to do, to help someone less fortunate," he adds.
Heidi and Cole were married in 2006.
Source: Philly.com
by
Add your quick reply below:
You must be a member to reply to this post.
Replies:
There are no replies to this post.