Wayne and Coleen Rooney Expecting First Child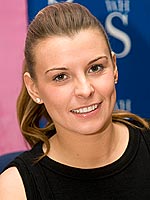 Goff/INF
After weeks of rumors, Coleen Rooney has confirmed to OK! UK she is expecting a baby with her footballer husband Wayne Rooney. "It's true," she beams. "I'm pregnant!"
"It's the most brilliant news and, along with marrying Wayne, the best thing that's ever happened to me. It's something we both wanted and we feel incredibly lucky and happy."
The couple haven't learned yet whether baby-on-the-way is a boy or girl, and according to Coleen the answer is irrelevant. "We really don't mind as long as he or she is healthy and grows up happy," she says. Preparing herself for a pregnancy in the public eye, Coleen expressed disappointment that her happy news was leaked to the press before she and Wayne were ready.
"Pregnancy is a miracle, but it's still in the early stages. I really want to be able to keep as quiet and as calm as possible for the sake of our baby. I just hope that photographers will give me a bit of peace and privacy in the months ahead. I don't think that's too much for any expectant mum to ask."
Baby-on-the-way is due in October. Coleen and Wayne, both 23, were married in June.
Source: OK! UK
by
Add your quick reply below:
You must be a member to reply to this post.
Replies:
There are no replies to this post.