Seal and Heidi Klum Expecting a Daughter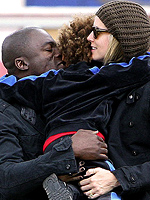 WENN
In an appearance on Oprah later today, Seal will confirm that he and Heidi Klum are expecting a daughter! The couple announced last month that they were expecting baby no. 4, due in mid-fall. Baby girl will join siblings Johan, 2, Henry, 3 ½ and Leni, 5.
Although Heidi said they'd be "happy with either," she explained that "it would be a lie if I said we all weren't hoping for a little girl — especially Leni because she would love to have a little sister."
source: celebritybabies.com
by
Add your quick reply below:
You must be a member to reply to this post.
Replies:
There are no replies to this post.