Jonathan Cake and Julianne Nicholson Welcome Daughter Phoebe Margaret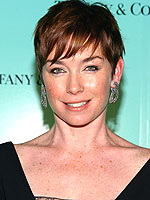 Scott Wintrow/Getty
Another baby for the Philanthropist Broadway show! Actor Jonathan Cake and his wife, actress Julianne Nicholson, welcomed their second child last week. Daughter Phoebe Margaret Cake was born on Thursday, April 30th. While no birth details were released, Jonathan was happy to open up about the family's little spring flower.
"Phoebe Margaret Cake is the most joyful addition to our little family, the embodiment of springtime."
Phoebe joins big brother Ignatius, 20 months.
While never confirming the pregnancy herself, reps for Julianne's show Law & Order: Criminal Intent announced that the 37-year-old was expecting.
Source: Broadway
by
Add your quick reply below:
You must be a member to reply to this post.
Replies:
There are no replies to this post.