Rachel Griffiths Welcomes a Daughter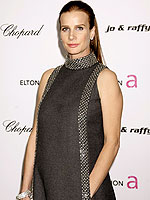 PA Photos/Landov
Now it's "brother and sisters" for the kids of actress Rachel Griffiths and husband Andrew Taylor.
A rep for the Australian television and film actress — and star of the ABC show Brothers and Sisters — confirms exclusively to PEOPLE that a new daughter has been added to the mix that already includes daughter Adelaide Rose, 4 this week, and son Banjo Patrick, 5 ½.
A name, birthdate and details were not released. Rachel and Andrew announced the pregnancy in January, sharing that they'd be awaiting a delivery surprise. Rachel had been due in early July.
Source: PEOPLE
– Blaine Zuckerman
by
Add your quick reply below:
You must be a member to reply to this post.
Replies:
There are no replies to this post.