Sam Mendes Opens Up About His Greatest Fear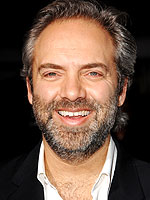 Steve Granitz/WireImage
Director Sam Mendes stepped away from the camera to focus on his family with wife Kate Winslet several years ago, and it's a decision he doesn't regret.
In a new interview with the Times Online, the 43-year-old Academy Award winner says that — to the contrary — his love for son Joe Alfie, 5, and step-daughter Mia Honey, 8 ½, has only served to transform the way he approaches his job. Fresh off directing stage productions of The Winter's Tale and The Cherry Orchard in London, Sam can't help but observe that life has changed dramatically since he first directed the latter play at the age of 24. "That's what links it with The Winter's Tale: the idea of coming to terms with your past, the loss of childhood, and the loss of children that haunts both plays," he says.
"That's the thing we most live in fear of. I now know what it feels like to hold a baby, your own child, in your arms. It makes a huge difference and you direct The Winter's Tale in particular differently."
Sam and Joe are avid fans of the English professional football club Arsenal, and when they're not watching football on television they can often be spotted playing the sport in the park. Although Kate's fame has translated into less privacy for the couple, from the sound of things they aren't the type to court the attention. Not that Sam is complaining! Being approached by Kate's fans is "a small price to pay," he says, adding,
"We don't go to premieres when they're not our own or enjoy big visible parties or galas at the Met. Most of the time it's just home, family, friends, school, people who see Kate as a mum rather than an actress."
Mia is Kate's daughter with ex-husband Jim Threapleton.
Source: Times Online
by
Add your quick reply below:
You must be a member to reply to this post.
Replies:
There are no replies to this post.